5 free agents Cowboys could sign now that draft is over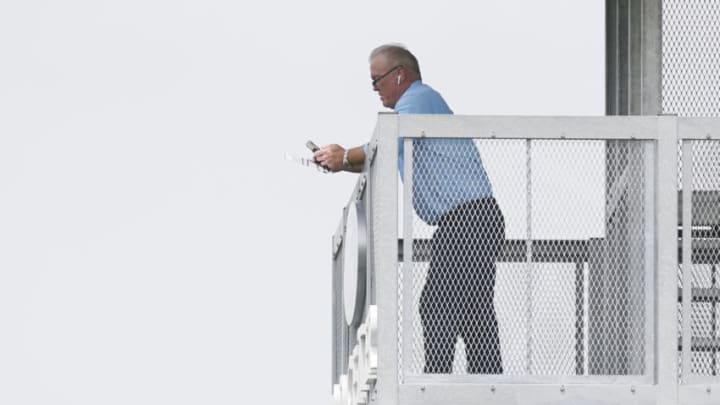 Dallas Cowboys executive vice president Stephen Jones Mandatory Credit: Tim Heitman-USA TODAY Sports /
cornerback Richard Sherman (25) Mandatory Credit: Kyle Terada-USA TODAY Sports /
The Dallas Cowboys drafted two cornerbacks who are in a similar mold of former Dan Quinn pupil and current free-agent Richard Sherman. If you're trying to replicate the original, why wouldn't you bring him in to at least give these new guys something to emulate?
Richard Sherman the player does look like he has lost some foot speed over the years but he is still just 33 years old and is as savvy as a defensive back can be.
Richard Sherman is on record saying that he wants to play two more years and he is correct in his assessment. Sherman is one of the most aware people in the league and playing a game that has passed you by is not in his future.
The acquisition of Sherman would be more about his knowledge and preparation rather than his skillset. I will say that Richard Sherman is still a starting cornerback in this league. I watched all of Sherman's limited 2020 game film in which he only played five games last season and it was interesting to watch.
Sherman isn't a big man-to-man guy anymore as it appears he likes to backpedal before the snap in order to not get beat deep. Double moves by smaller quicker receivers are something that he should be protected from.
Sherman understands concepts of plays probably better than the quarterbacks trying to execute the call. The film shows a player who will gamble by squatting on a route or will peel off of his man to break off what should be the correct quarterback read and throw.
Sherman is still very long and can break up most contested catches. The Dallas Cowboys will have to have a patient safety behind Sherman as his gambles could lead to disaster but should also increase opportunities for turnovers.
Sherman's familiarity and affinity for coach Dan Quinn make the Dallas Cowboys a logical landing spot. I like the youth of the Dallas Cowboys secondary but a much respected veteran cornerback is something that I think is needed.