Dallas Cowboys top 10 greatest Super Bowl moments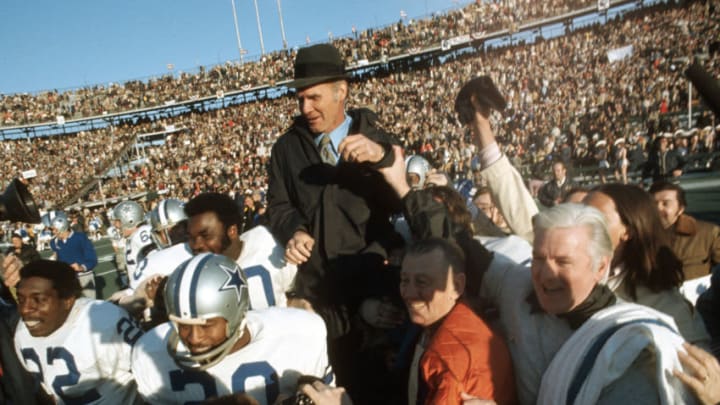 Head Coach Tom Landry Dallas Cowboys (Photo by Focus on Sport/Getty Images) /
Dallas Cowboys wide receiver Butch Johnson (Photo by Sylvia Allen/Getty Images) *** Local Caption *** /
Roger Staubach pass to Butch Johnson
The Dallas Cowboys Super Bowl memories are not complete without a play from "Captain Comeback" himself. Roger Staubach was instrumental in the Dallas Cowboys becoming who they are but it was a touchdown pass to Butch Johnson that made this list.
Wideout Butch Johnson had broken his right thumb in the second quarter so a circus catch in the Super Bowl makes it that much more impressive.
With the Cowboys up 13-3, Staubach and the Cowboys faced a third and ten from their opponent's 45-yard line. The call from the sidelines was intended for Johnson to run an inside route or "Ray 15" as it was known but Roger Staubach changed the call.
He instead ordered Johnson to run a post route instead of the route Landry had relayed in. Johnson showed off his speed and made a fingertip grab securing the ball just as he crossed the end zone.  What made this play memorable was the fact that Johnson let the ball go as soon as he crossed the line.
The ball did not move and just stayed on the Super Bowl end zone floor while Denver defensive backs Steve Foley and Bernard Jackson disputed the validity of the catch. Both arguments fell on deaf ears as the field judge Bob Wortma had already made up his mind and called it a touchdown.
This game was supposed to be a battle between former teammates Roger Staubach and Craig Morton who alternated plays at one point as Dallas teammates. It turned out to be a one-sided affair as the Dallas Cowboys defense suffocated the Denver offense which led to the NFL's only Super Bowl co-MVPs.
Regardless of the Super Bowl heroics by the defense, it was this Roger Staubach play that ranks as fifth on the best Dallas Cowboys  Super Bowl memories list.