Dallas Cowboys top 10 greatest Super Bowl moments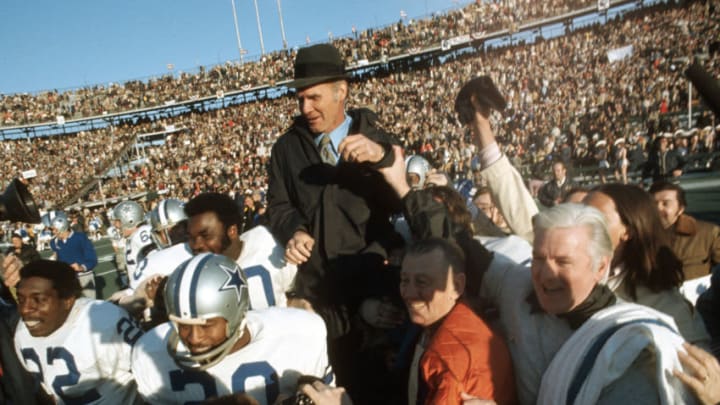 Head Coach Tom Landry Dallas Cowboys (Photo by Focus on Sport/Getty Images) /
Wide receiver Michael Irvin #88 of the Dallas Cowboys (Photo by Gin Ellis/Getty Images) /
Micheal Irvin almost messed up
Hall of Fame Wide receiver has been quoted as "loves to watch this play" but it almost turned into a disaster for the iconic wideout.
After a rocky start, these young Dallas Cowboys found their footing and began to physically impose their dominance on their opponent. Micheal Irvin recorded two touchdown catches in the span of 18 seconds which is still a Super Bowl record.
It was the second quarter and the Cowboys were nursing a 14-10 lead. Emmitt Smith had just ripped off a 38-yard run right before the two-minute warning. The team then started at the opponent's 20-yard line and Michael Irvin ran a post route which ended up as a 20-yard touchdown catch from Troy Aikman.
On Buffalo's first offensive play after the Irvin touchdown, Cowboys defensive tackle Leon Lett forced another turnover as Bills running back Thurman Thomas fumbled and the Cowboys recovered at the Bills 19-yard line.
The very next play ranks as the fourth-best Super bowl moment in Dallas Cowboys history.
An eager Irvin ran his out-route but broke out of it a bit early. He saw quarterback Troy Aikman release the ball when it is usually already thrown when the receiver turns to look for the ball. Irvin believed that the defensive back also saw the ball being thrown and did the only thing he could think of to shield the ball.
Irvin threw his leg up which ended up being enough for Irvin to secure the Aikman catch but what makes this iconic was Irvin's ability to land, turn upfield, and dive for the end zone.
This put the Cowboys up 28-10 en route to their first Super Bowl win in 15 years but Michael Irvin has his Super Bowl moment which he can call his own.