Dallas Cowboys top 10 greatest Super Bowl moments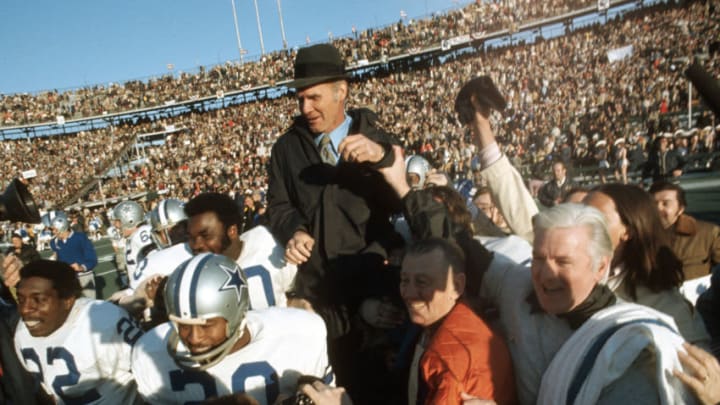 Head Coach Tom Landry Dallas Cowboys (Photo by Focus on Sport/Getty Images) /
Defensive tackle Leon Lett #78 of the Dallas Cowboys (Photo by Gin Ellis/Getty Images) /
Leon Lett' Fumble
Leon Lett is now known as the Dallas Cowboys assistant defensive line coach but those of us who were able to see him play know that Lett was a dominant interior defensive lineman in his time. His only issue was substance abuse which he was suspended for on multiple occasions.
The funny thing about Lett is that the insane amount of interior defensive lineman the Dallas Cowboys assembled cut his playing time early in his career. Fellow linemates like Russell Maryland, Jimmy Jones, and Tony Casillas rotated with Lett which kept him out of the spotlight.
Lett eventually found the spotlight in this game but for different reasons. After the Dallas Cowboys realized that they were about to become Super Bowl Champions, the defense came away with their ninth, yes ninth takeaway.
Leon Lett was about to complete the scoop and score until he got a little too cute with the football. It has been said that Lett was trying to stretch the ball like wide receiver Michael Irvin used to before crossing the goal line but a great hustle play by Buffalo's Don Bebee stopped that from happening.
At the time, if Lett would have run into the endzone, the Dallas Cowboys would have had the most points scored in Super Bowl history. Instead, we end up with a bonehead play that is still talked about not because of its impact but because it stole the headline of the Cowboys winning their first championship in 15 years.
Lett is no stranger to controversy as his Thanksgiving Day debacle was just as embarrassing as the Super Bowl blunder. Nevertheless, Lett ranks ninth on my list for best Super Bowl memories.