Dallas Cowboys top 10 greatest Super Bowl moments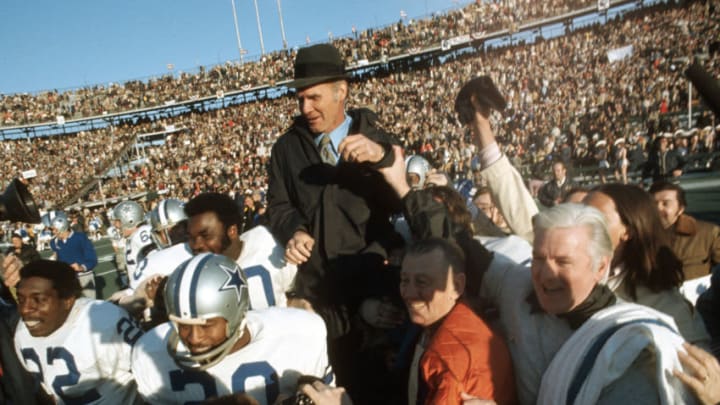 Head Coach Tom Landry Dallas Cowboys (Photo by Focus on Sport/Getty Images) /
Larry Brown #24 of the Dallas Cowboys (Photo by George Rose/Getty Images) /
Larry Brown's second interception
Super Bowl XXX pitted two heavyweight franchises against each other whose rosters were littered with Pro Bowl and Hall of Fame players. It is only fitting that a 12th-round pick out of TCU ended up having the biggest impact.
Larry Brown had already intercepted a Neil O'Donnell pass earlier in the game that set up a Dallas Cowboys touchdown. With the Dallas Cowboys clinging to a small lead, the Steelers decided to go with three wideouts on the right side.
Whether it was a miscommunication with a hot read or the ball just simply slipped out of O'Donnel's hand, the end result is still the same. Larry Brown intercepted O'Donnell for a second time which led to another touchdown run by running back Emmitt Smith.
I feel bad for Neil O'Donnell as simply uttering his name conjures up bad memories for any Steelers fans that saw the game. The flip side of this has to be how Brown deserved his day in the limelight.
Brown suffered a personal tragedy just a few months before when he lost his premature son 10 weeks into his life. The Dallas Cowboys also planned to upgrade from Brown as Deion Sanders was signed to play opposite of cornerback Kevin Smith.
Smith suffered an ACL tear in week one once again pushing Brown into the starting lineup. It's funny how life works as after all of those setbacks, Larry Brown was named MVP for Super Bowl XXX.
I had the opportunity to meet Larry Brown last year and he merely chuckled when I asked him if the Neil O'Donnell payments were true. You see, there was a rumor that was started that Brown paid O'Donnell to throw him those interceptions.
It was and still is an absolute lie but it is funny to know that Brown has heard of it and just shrugs it off. What cannot be taken away is you cannot tell the story of the Dallas Cowboys without mentioning Larry Brown and his Super Bowl heroics.