How the Dallas Cowboys defense has stepped up as of late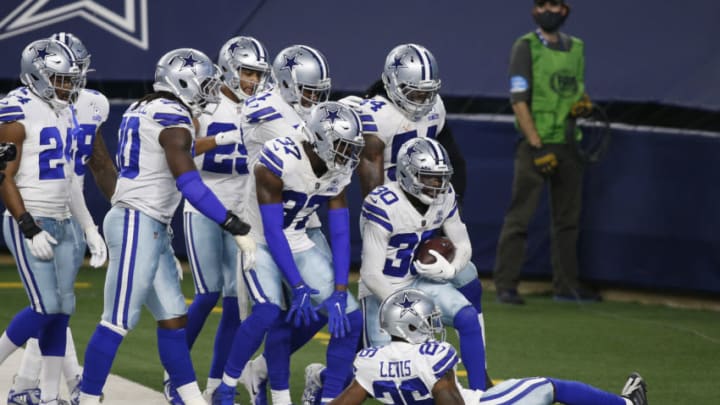 Dallas Cowboys defense (Tim Heitman-USA TODAY Sports) /
The Dallas Cowboys defense is at the heart of their recent winning streak
The old saying in football is defense wins championships. And defense has certainly been at the heart of the Dallas Cowboys' resurgence this season, resulting in a three-game winning streak and a chance to make the playoffs this weekend.
Despite posting a 6-9 record heading into their final game of the 2020 NFL regular season, the Cowboys can still win the NFC East and a postseason berth on Sunday. That's if they are able to defeat the 5-10 New York Giants. Dallas will also need the 4-10-1 Philadelphia Eagles to defeat the 6-9 Washington Football Team.
While the Cowboys can control only what they can control, their improved defensive performance has really turned the tide of their season. Over the past three games, Dallas has allowed an average score of only 19 points per contest. That's far below the 32.75 points per game average they allowed to opposing offenses in their previous 12 contests.
Here's what NFL Network Analytics Expert Cynthia Frelund wrote on the league's official website about how much the Cowboys' defense has stepped up over the past two weeks.
""In Weeks 1-14, Dallas had a 23.5 percent pressure rate, blitzing at a 25.1 percent rate. In Weeks 15 and 16, though, the Cowboys have boosted the pressure rate to 33.3 percent while decreasing the blitz percentage to 17.2. In Dallas' 37-17 win over Philadelphia this past Sunday, the 'Boys generated 17 pressures on 42 Eagles dropbacks. That equals a 40.5 percent pressure rate, which is a season high for Dallas.""
With that additional pressure provided by the Cowboys' defense over the past three games, there has been an explosion of takeaways by this unit. Through the first 12 games of the season, Dallas forced a total of 11 turnovers. In the last three contests alone, the defense has posted a whopping 10 turnovers.
That includes forcing a total of nine fumbles, recovering six causing turnovers. The Cowboys' defensive secondary has also picked off opposing quarterbacks four times in the past two games resulting in four total interceptions. Dallas had only recorded five interceptions in their previous 12 contests.
The Dallas Cowboys now head into their final game of the 2020 NFL regular season still possessing a chance at winning their division. And they'll need their defense, who now ranks 30th in the NFL allowing 30.0 points per game, to help them defeat the New York Giants on Sunday. The Cowboys defeated the Giants, 37-34, back in Week Five.