Dallas Cowboys: Dalton Schultz's emergence presents interesting questions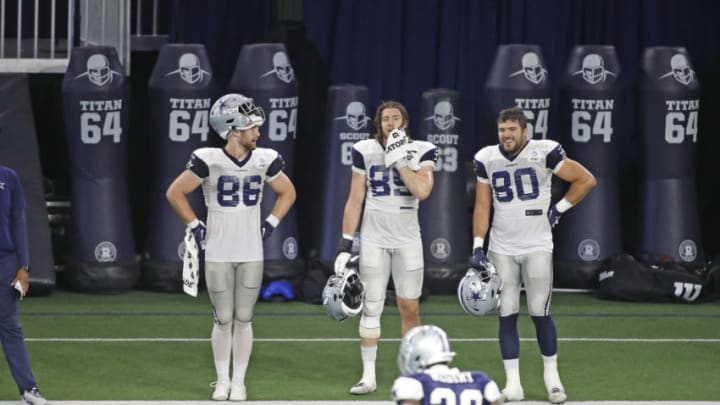 Dallas Cowboys tight ends Dalton Schultz , Blake Jarwin and Blake Bell (James D. Smith via USA TODAY Sports) /
Dalton Schultz #86 of the Dallas Cowboys (Photo by Abbie Parr/Getty Images) /
The Dallas Cowboys run a lot of the same types of offensive sets, but that isn't the only reason to think about doing something else.
The second reason is that it would allow them to keep a very multiple set of personnel on the field for extended periods of time. The problem with always attempting to run the hurry-up offense is that the team's best or optimal personnel to do so may not be on the field at all times.
With the ace personnel, it would allow you to have at least four of your top five offensive threats on the field, while it would also allow you the ability to be more multiple at the same time. The Cowboys have run 79 percent of their offensive snaps out of three-receiver sets, which not only inclines them to be predictable but certainly doesn't allow them to take full advantage of Ezekiel Elliott as fully as they could be.
That is the third reason. With the defense in mind as well, we have wondered how they can get Zeke more involved.
This would be a good way to do so. It would keep a set of people on the field who could give him holes to run through, while also providing enough skill, playmaking, and talent on the edges to still be able to execute efficiently in an uptempo style.
This would be all be while getting Zeke involved, keeping the defense on the field, and maximizing the Cowboys' ability to use the very and only thing that has seemed to be a weapon for them this season. It isn't only something that is geared toward the right now, this season, or to address our current issues though.