Dallas Cowboys: Dalton Schultz's emergence presents interesting questions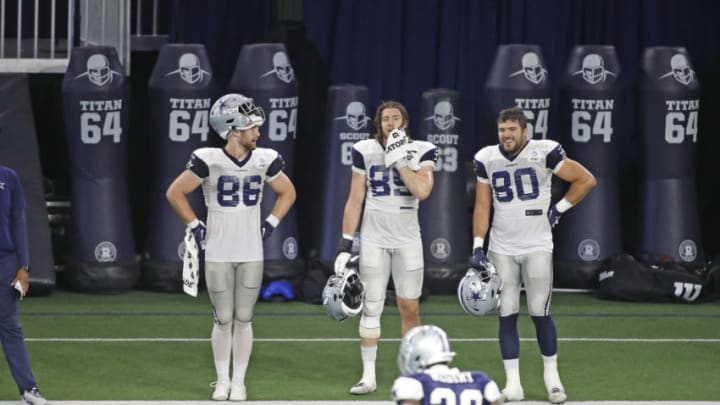 Dallas Cowboys tight ends Dalton Schultz , Blake Jarwin and Blake Bell (James D. Smith via USA TODAY Sports) /
Dalton Schultz #86 of the Dallas Cowboys (Photo by Ronald Martinez/Getty Images) /
The Dallas Cowboys can expand their playbook by condensing their formations.
The Dallas Cowboys are a team that is absolutely struggling right now defensively. They can't stop anyone.
They lost a game last Sunday to the Cleveland Browns in which they didn't allow 200 yards to the opposing quarterback through the air, but they allowed over 300 yards on the ground, which ultimately led to them allowing 47 points scored. That will get you beat every time.
As alluded to in previous thoughts, the Cowboys seem to be their best on the offensive side of the ball when they can run the uptempo style of play. That presents an issue because that would inevitably get your defense back on the field faster.
As mentioned and as your eyes can see if you just watch for the slightest amount of time, the less time that this struggling defense is on the field at the moment, the better for the Dallas Cowboys. That brings us to our next thought.
It may seem a little out there at first, but follow me here. With what your tight ends are capable of, the Cowboys should take advantage of more Ace packages.
Typically, these are packages have a tight end lining up on both ends beside the tackles, with a wideout split out on both sides, and one running back in the backfield. There are a few reasons that this should be something they look more towards.
The first is that they have only run such a package on 11 percent of their total snaps this season, 33 of a possible 305 snaps according to Sharp Football Stats. While playing from behind so much has facilitated a lot of three-receiver sets, they could stand to become more multiple.