Dallas Cowboys: Dalton Schultz's emergence presents interesting questions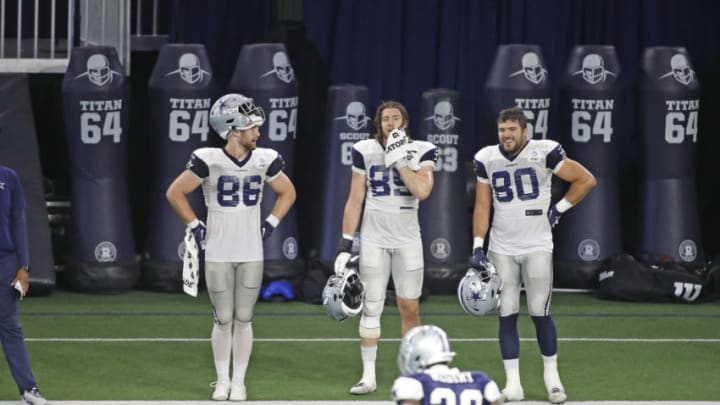 Dallas Cowboys tight ends Dalton Schultz , Blake Jarwin and Blake Bell (James D. Smith via USA TODAY Sports) /
Dallas Cowboys tight end Blake Bell (80) (Jayne Kamin-Oncea-USA TODAY Sports) /
The Dallas Cowboys can actually do something special with the talent they have at tight end. They just have to use it.
Looking forward, you expect Blake Jarwin to come back and get back to what he was before the injury. Well, you will still have Dalton Schultz in tow, hopefully.
With an offense and the weapons like the Cowboys have, think what they could do if they deployed it like the Patriots did when they had two of the most dominant tight ends in the game on the field at the same time. The Cowboys have an opportunity to do something similar to that when Blake Jarwin returns.
With what Schultz has shown in his absence, he is at best comparable to Jarwin, if not his equal. With that kind of talent on the edge of the line but tight and with Dak's Prescott's penchant for being able to hit targets in the middle on the seems or slants, that could be a recipe for success moving forward.
But wait and to bring it all the way back around again, they don't even have to wait until next year to get or give a taste of how dominant it can be if they fully trust what they have. Blake Bell is a blocking tight end, yes, this is true.
However, he has shown an ability to catch the pass and with his ability to make plays with the ball in his hand, he could be an asset. Well, at least with the ability he has traditionally shown over his entire career. The man wasn't known as the Belldozer for nothing.
All in all, this is the point I am making. The Cowboys are struggling on defense, while their best offense comes in the hurry up.
They also seem to have unearthed a strength unintentionally via injury in their tight end talent and depth. This is all going on in the foreground, while in the background, they are struggling to get Zeke properly involved in the offense.
Why not attack all of those issues or areas at one time by deploying more of the two-tight end set or some form of the Ace package. Yea, it might take CeeDee Lamb off the field for a few more plays, but that would be more than accounted for across extra tight end production, Zeke production, and potentially even a smidgen of hope for success once the defense comes back onto the field.
Or, perhaps I am wishful thinking and Mike McCarthy won't adjust at all. I sure hope he does though, as this might be something to look at for now and the future of this Dallas Cowboys team.