3 things Cowboys must work on vs. Jaguars to get right for Eagles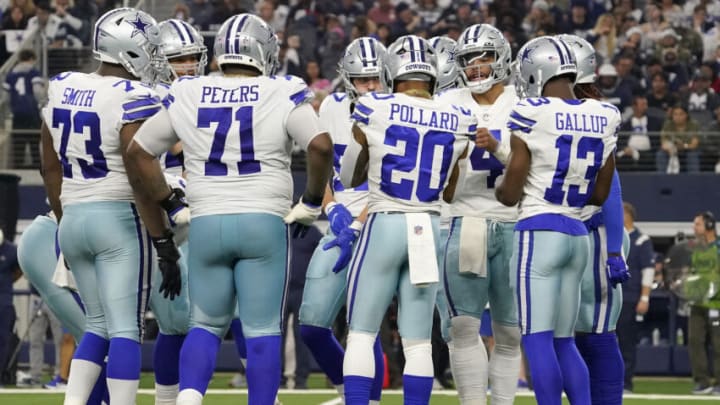 ARLINGTON, TEXAS - DECEMBER 11: The Dallas Cowboys offense huddles in the second quarter of a game against the Houston Texans at AT&T Stadium on December 11, 2022 in Arlington, Texas. (Photo by Sam Hodde/Getty Images) /
Cowboys, Micah Parsons. (Photo by Mitchell Leff/Getty Images) /
1. Get Micah Parsons on a Hot Streak
It's safe to say at this point that Micah Parsons is the best player on the Cowboys' roster. He's become an emotional leader on the field, and even off of it. He's also a leader by example, as he can be seen flying all over the place while making one play after another.
Through the season's first 13 games, Parsons has 57 tackles, 12 sacks, three forced fumbles, one recovery, and a defensive touchdown. As impressive as he's been, the Eagles did an excellent job keeping him from being able to ruin their game plan last time around.
Their strategy might sound crazy, but it worked in a big way. Philly simply didn't block Parsons, but instead ran at him using the read option. They would force him to commit to either Jalen Hurts or the running back — usually Miles Sanders — and whichever way he went, the ball went the opposite way.
Parsons still finished with seven tackles, but he didn't have the huge impact plays we're used to seeing. For example, he put up two sacks and three quarterback hits in Week 5 against the Rams, then had two sacks and two quarterback hits against the Lions in Week 7 … with goose eggs on both against Philly.
Week 14 should be all about getting him rolling, especially since he hasn't had a sack in the past two weeks. Getting him on a roll could carry over to Week 15 and help them keep the Philly offense from turning the game into a shootout.