5 biggest takeaways from the Cowboys' 54-19 rout of the Colts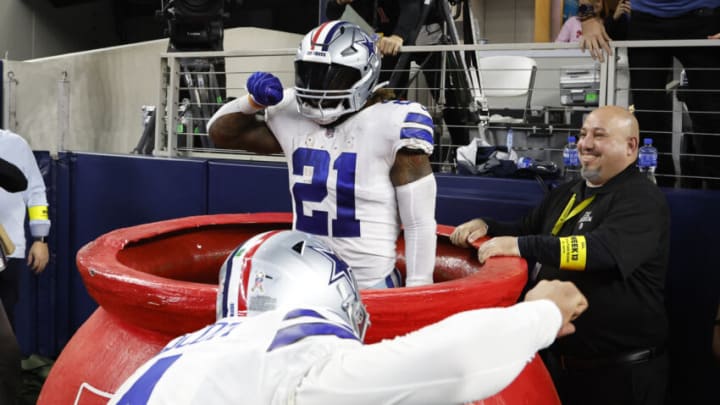 Dec 4, 2022; Arlington, Texas, USA; Dallas Cowboys running back Ezekiel Elliott (21) and quarterback Dak Prescott (4) celebrate a touchdown against the Indianapolis Colts in the fourth quarter at AT&T Stadium. Mandatory Credit: Tim Heitman-USA TODAY Sports /
The 9-3 Dallas Cowboys now sit comfortably in second place in the NFC East, but they are certainly making their case as the best team in the NFL. After a longer break due to the Thanksgiving games, the team beat their own high score for most points in a game this season with a 54-point effort against the Indianapolis Colts on Sunday night.
The Cowboys were slow out the gate, ending the first quarter down 10-7. Even going into the half, the 'Boys only had an eight-point lead over the 4-7-1 Colts. After an uninspiring third quarter, where the offense failed to add any more points to the board, the Colts cut the lead to two.
However, in the fourth quarter, it was all Cowboys. An unbelievable 33 points were scored by the Cowboys in the final 15 minutes, making the score look a lot more lopsided than how most of the game felt.
In football, there are four quarters. You would think that in a game that ended 54-19 in favor of your team, it's all good vibes. Unfortunately, there are three other quarters aside from that perfect fourth. Let's dive into what transpired Sunday night.
5 biggest takeaways from the Cowboys' big win over the Colts
Dec 4, 2022; Arlington, Texas, USA; Dallas Cowboys quarterback Dak Prescott (4) throws during the first quarter against the Indianapolis Colts at AT&T Stadium. Mandatory Credit: Kevin Jairaj-USA TODAY Sports /
1. The Offense Needs to Come Out Stronger
This is one of the only knocks of the night. The team, but more specifically the offense, needs to put up more points early. If not that, they at least must have some more inspiring drives than what they put up.
All but one of their first half drives were six plays or less. Granted, three of them ended in touchdowns. However, three ended in punts (including two three-and-outs, one to start the game), and one ended in an interception.
If the Cowboys want to avoid being one-dimensional on offense, which is when they are at their worst, they need to get on the board early and often. When they get behind, that can force them to work through the air. This team is at its best when they can have a balanced attack.