Cowboys' Micah Parsons easily leads NFL in jersey sales after spectacular October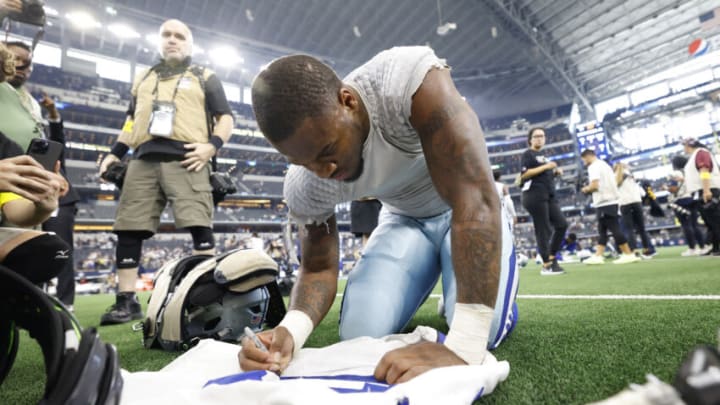 ARLINGTON, TEXAS - OCTOBER 02: Micah Parsons #11 of the Dallas Cowboys signs his jersey after his team's 25-10 win against the Washington Commanders at AT&T Stadium on October 02, 2022 in Arlington, Texas. (Photo by Wesley Hitt/Getty Images) /
Dallas Cowboys linebacker Micah Parsons isn't just ruling the football field. He's also ruling the NFL jersey game. The NFLPA and the Official NFL Shop revealed that the Cowboys LB had the highest-selling jersey amongst all players in the league for the month of October. This feat makes him the first defensive player to top the sales rankings this season.
To be top dog — or should we say Lion — Parsons beat out four other offensive powerhouses in this league. Saquon Barkley ranked fifth, Christian McCaffrey ranked fourth, Patrick Mahomes ranked third, and Josh Allen ranked second.
This should be no surprise when you think about how well Parsons has been doing in his second year. The month of October was full of sacks, tackles for loss, and athletically impressive plays like his scoop-and-score touchdown and speedy move to stop a touchdown against the Detroit Lions.
This exciting accomplishment proves that Parsons isn't just loved by Cowboys Nation. He's turning the heads of fans, everywhere. He's even impressing former players. Hall of Famer Ed Reed even awarded the second-year standout his second-ever Dominating Player of the Month award for the month of October.
Cowboys LB Micah Parsons gives away signed gear after leading NFL in jersey sales
Another reason Parsons is a fan favorite is that he is always giving back. When a fan tweeted that he and his daughter were sad not to get autographs at a game, No. 11 told them to DM him so they could work things out. Even though he is a proud Pennsylvania native, the 23-year-old has engrained himself in the Dallas community and has done his best to give back to those around him, including helping a young kid who was being bullied at school.
After hearing about leading the NFL in jersey sales, Parsons saw the accomplishment as yet another opportunity to return the favor. The linebacker retweeted the above tweet and said he wanted to invest in the fans who invested in him. He said that anyone who liked and retweeted his post would be included in a chance to win one of five game-signed jerseys he'd be giving away.
Parsons is a man of the people for many reasons. Not only because he has a better pass rush win rate than anyone or because he's the clear frontrunner for the 2022 Defensive Player of the Year award, but also because he really appreciates his fans. It's no wonder his jerseys are flying off the shelves.