Dallas Cowboys: Should Dalton Schultz start over Blake Jarwin?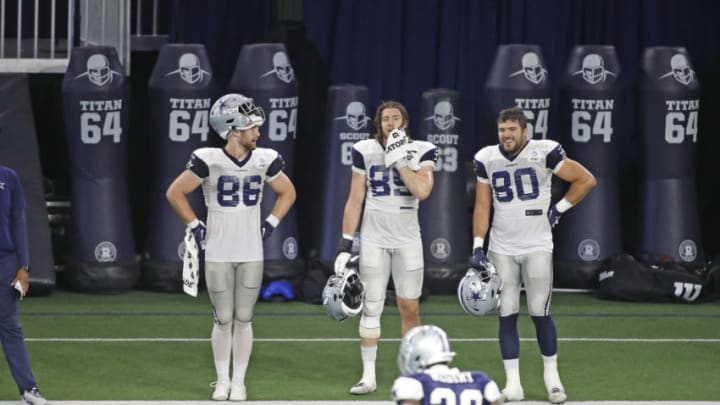 Dallas Cowboys tight ends Dalton Schultz , Blake Jarwin and Blake Bell (James D. Smith via USA TODAY Sports) /
Blake Jarwin, Dallas Cowboys (Credit: Quinn Harris-USA TODAY Sports) /
Dalton Schultz stepped in for Blake Jarwin and played great; who gets the start next season?
Having too much talent is a problem, but a good one to have. The Dallas Cowboys must figure out how to address their tight end position. Blake Jarwin vs. Dalton Schultz will be an entertaining matchup to monitor over training camp and preseason.
Whoever is the starter come Week 1 will reap the rewards of playing with one of the best receiving corps in the NFL. The other could be in the conversation of players getting cut from the team. Let's take a look at both candidates.
Assessing Blake Jarwin
The Cowboys struck gold in 2017 when they signed undrafted free agent Blake Jarwin out of Oklahoma State. Since then, he worked his way up the depth chart. He started the season on Dallas' practice squad before being called up before Week 8.
The former Oklahoma Cowboy only played 12 total snaps in his rookie season, but that increased to 550 the following season with 386 on offense. He was part of the group of tight ends trying to fill in for the retired Jason Witten.
It was a season that saw him lead all tight ends on the team for receptions, receiving yards, and receiving touchdowns. His share of 36 percent of the offensive snaps produced 27 catches for 307 yards and three touchdowns.
He would have been the starter in 2019, but owner Jerry Jones lured Witten back to the team. Jarwin moved to the backup role but still managed to catch 31 passes for 365 yards and three touchdowns. The then 25-year-old proved more efficient offensively than the future Hall of Famer.
Heading into the 2020 season, I had high hopes for Jarwin. I even went on to say he will be the Cowboys' biggest surprise last season. Unfortunately, he only caught one pass before suffering a season-ending ACL tear.
From 2018 through 2019, we saw just how efficient of a receiver Jarwin is. He puts his past as a wide receiver on display with crisp route-running and soft hands.
The speed Jarwin possesses as a tight end is deadly, forcing opposing defenses to match up poorly. With the lethal receiving corps in Dallas, the tight end would have plenty of room to make plays.
His ability to thread through the middle of the field also compliments the receivers. All-in-all, Blake Jarwin is a great catching tight end. He would be an impact player on many NFL teams.