Dallas Cowboys: Should Dalton Schultz start over Blake Jarwin?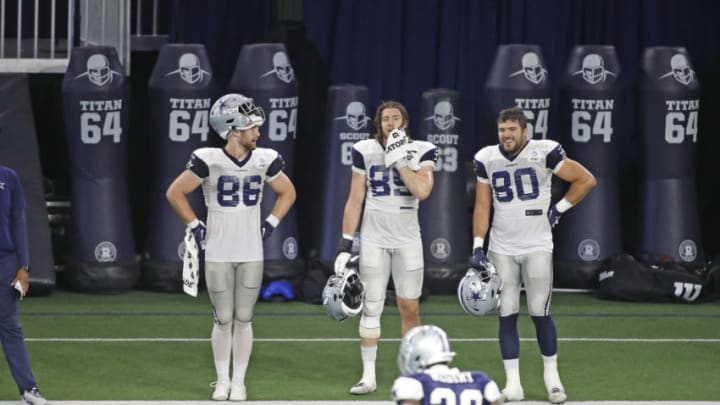 Dallas Cowboys tight ends Dalton Schultz , Blake Jarwin and Blake Bell (James D. Smith via USA TODAY Sports) /
Dalton Schultz, Dallas Cowboys (Credit: Vincent Carchietta-USA TODAY Sports) /
Assessing Dalton Schultz
Unlike Jarwin, Dalton Schultz did get drafted. It was in the fourth round of the 2018 NFL Draft. His rookie year was when the trio of tight ends, including him and Jarwin, shared the starting snaps.
Since Schultz was the rookie, he saw the fewest opportunities. He only played 28 percent of the offensive snaps but performed well in that small sample. He caught 12 passes for 116 yards but no scores.
With the return of Witten, Schultz got buried in the depth chart. He watched as Witten took the starting role, with Jarwin complimenting him. Schultz only stood on the field for 10 percent of the offensive snaps.
Jarwin was the go-to tight end to start the season in 2020. He performed every season, including his efficiency when playing behind Witten in 2019. A sudden injury struck his season short after playing only 25 offensive snaps.
With the brutal injury to Jarwin, Schultz leaped as the next man up. Many had their doubts about how he would fit in with the starting role after never playing more than 30 percent of the offensive snaps.
The tight end quickly silenced all doubt. In Week 2, he caught nine of ten passes thrown his way for 88 yards and one touchdown. He would finish the season with 63 catches for 613 yards and four touchdowns.
While he did not look as explosive as Jarwin, Schultz did make some big plays for the Cowboys. All of Dallas' starting quarterbacks were able to connect with Schultz.
You can argue he should have been a Pro Bowler last season instead of Evan Engram of the New York Giants. Dalton had three more touchdowns, a better catching percentage by 13 percent, and seven fewer dropped balls.
It doesn't matter how you look at it; Dalton Schultz had an impressive season. That is especially so considering he got pushed aside during his first two seasons. He took the opportunity to play as the starter in stride and impressed everyone.