Dallas Cowboys fans are powerless to dictate the future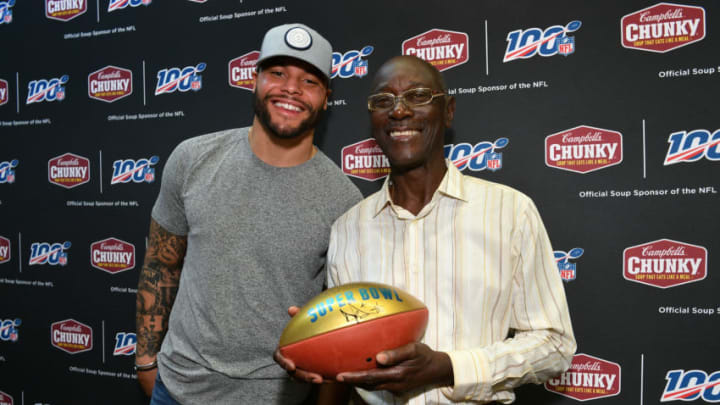 Dak Prescott, Dallas Cowboys (Photo by Dia Dipasupil/Getty Images for Campbell's Chunky Soup) /
We love our team but we have no control over the team that we love. No control over what the owner does. No control over what the players do.
No control over anything that determines the outcome of any season. That is the life of any fan, and it is a reality that every Dallas Cowboys fan feels acutely.
If one samples the Twitter feed devoted to quarterback Dak Prescott on a daily basis, this becomes apparent. With great conviction and emotion, fans argue with one another about Prescott's ability, worth, health, and future.
The arguments are not confined to Prescott, however. Soon the disputes will involve free agency, the draft, roster strengths and weaknesses, contract extensions, and everything else Cowboys.
This is what it means to be a fan. Intense interest and devotion, zealous opinions, never-ending hopes and expectations, lively debate, and annual disappointment. The only exception to that cycle is the rare season when a Super Bowl championship is the outcome.
It might be wise to remember that the people who are in the arena, though often passionate about their work, are usually much more level-headed about their profession. For them, it's a business. It's a very lucrative way to make a living, but it is just that – a way to make a living.
While fans debate about Prescott's contract, he's living his life. From time to time a picture will emerge of the Cowboys quarterback smiling at dinner, or attending a sports camp for kids, or hanging out at his house. He seems to be just fine.
Whether Prescott plays in Dallas or plays somewhere else, he will likely earn in the neighborhood of $40 million next year. I'm guessing he's not too concerned about Twitter opinions.
But this is the fan's life. Strong opinions. Decades of devotion. Plenty of spirited conversations about the decisions we want our team to make. Zero control over the outcome, but still held captive by our teams.