Another Super Bowl without the Dallas Cowboys; I'll pass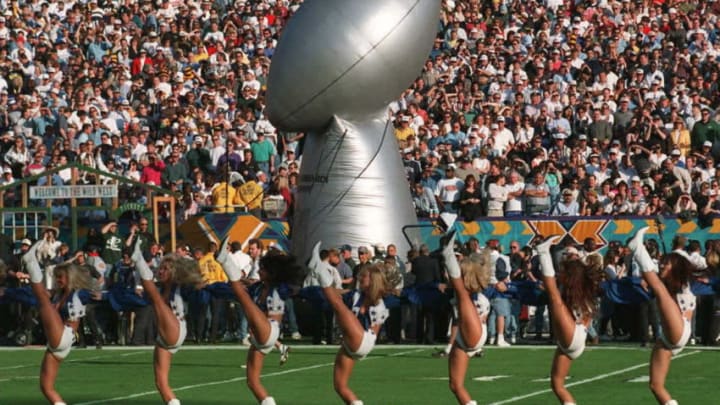 Dallas Cowboys cheerleaders (CHRIS WILKINS/AFP via Getty Images) /
Remember the year 1996? There's a solid chance that many of the readers scrolling down this post on their smartphones weren't even born then. For those that were, and were fans of the Dallas Cowboys, it was a golden age.
Bill Clinton was the U.S. President. Michael Jordan was back with the Chicago Bulls after his first of three retirements. Tickle Me Elmo dominated the holiday toy season. The movie Independence Day would loom large at the box office. And the Cowboys were Super Bowl champions.
In fact, the word 'dynasty' best described the Dallas Cowboys at the time. After hoisting three Lombardi Trophies in four years, no one knew when the ride would end back in 1996. Led by the Triplets of quarterback Troy Aikman, running back Emmitt Smith, and wide receiver Michael Irvin, it appeared as if Dallas would remain atop the NFL mountain for the rest of the decade.
But the cruel football gods had something else planned. Something far more sinister. And Cowboys fans have suffered ever since. Now, it's true there have been good times and good teams in Dallas since the Cowboys' last Super Bowl appearance back on January 28, 1996. But they've never been back.
It's been 9,143 days as of the publishing of this story that America's Team was last in the Super Bowl. That's over 300 months or exactly 25 years plus 11 days. It's … been … a … long … time.
Now, tell that to fans of NFL franchises like the Detroit Lions, Cleveland Browns, Jacksonville Jaguars, or the Houston Texans. All of which have never even played in a Super Bowl. Much less won five like the Cowboys. But the success of those teams of yesteryear give little comfort to fans in 2021.
And with Super Bowl LV set to kick off on Sunday afternoon between the Tampa Bay Buccaneers and the Kansas City Chiefs, I'm going to say 'no thank you'. I understand this championship matchup has been hyped as an epic battle between two elite quarterbacks in Tom Brady and Patrick Mahomes. Again, nah, I'm good.
Ironically, in my old age, I see the Super Bowl not as the crown jewel of the NFL season, but rather the one football game of the year that's not really about football at all. With a pregame show that lasts for hours, a heavy rotation of million-dollar commercials, a halftime show so long you forget what the first-half score was, and all the other non-football distractions that occur on what seems to be a never-ending television broadcast … I say, no thanks.
I'll just watch Netflix, catch the highlights later on YouTube, and dream about it being 1996 again. Back when the Dallas Cowboys were still a dynasty. And the moniker America's Team couldn't be disputed. I'm guessing I won't be the only one. Cheers.