3 notes to digest before the Dallas Cowboys visit Washington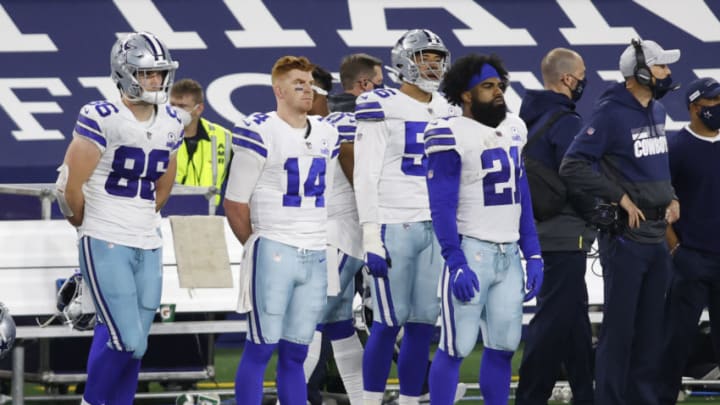 Dallas Cowboys, Ezekiel Elliott - Tim Heitman-USA TODAY Sports /
Dallas Cowboys, Ezekiel Elliott – Tim Heitman-USA TODAY Sports /
The Dallas Cowboys departed from the fast lane. Still, Big D is leading the NFC East at 2-4. Let's talk about the visit to Washington D.C.
There's no real way to sugarcoat the Dallas Cowboys. I knew the game against the Arizona Cardinals wouldn't be pretty. I predicted a 34-17 score and confessed that there was no way Big D would leave AT&T Stadium with a win.
By all accounts, the Dallas Cowboys continue to prove me wrong. The team is even worse than advertised and to be frank, that's putting it nicely. The world knew that without quarterback Dak Prescott at the helm, the defense would stack the box and double-dare Andy Dalton to play real ball.
The Cowboys were anemic, once again, in all phases of the game. The receivers pretended there was a mild hurricane inside the stadium, which seemed to make the ball mentally slippery. Catches that were to be made, that are usually made, fell to the turf.
And sadly, that's not all. Ezekiel Elliott, who was primed to take over after the star quarterback was injured, was the most unusual candidate of them all. He uncharacteristically fumbled the ball two times, which was basically enough to feed the entire Arizona team with victory soup.
Zeke says it's on him. That it's his fault. Yes. It was.
But in truth, there's so much blame to go around that at this point, you might as well point the finger on one dude. It's just easier that way. If the Cowboys are giving up on themselves with their lack of mental fortitude, boneheaded penalties, and coaching miscues, it doesn't really matter who the blame goes to.
The score doesn't board doesn't change. The overall record still stands at 2-4. Yeah, the Cowboys are on top of the NFC East, sitting in a division full of weakness. I guess we have a reason to shoot some confetti.
Anyways. Here are three notes to ponder about before the Dallas Cowboys fly to Washington D.C. Let me know your thoughts in the comments section as well. And stick around to the end for a prediction.