Dallas Cowboys: Which pass-catcher has impressed you so far?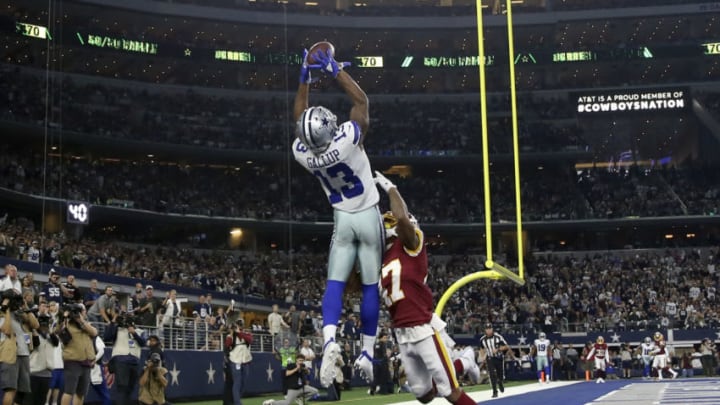 Michael Gallup, Dallas Cowboys Mandatory Credit: Kevin Jairaj-USA TODAY Sports /
Michael Gallup, Dallas Cowboys (Joe Nicholson-USA TODAY Sports) /
Michael Gallup, WR
I feel so sorry for wide receiver Michael Gallup. He has proven himself over the past two seasons and will need to continue to do so this time around. This situation is not all that bad, though.
While the opponent may downplay the skill of Gallup, the Dallas Cowboys and their fans know just how good he is. He is dangerous deep down the field, opening space in the middle for others. Defensive backs always have to respect this part of his game.
Dallas has utilized Gallup's downfield specialty great in the first four weeks of the season. He will wither run a deep route, or something that can be disguised as him running deep.
Because of this, five of his 13 receptions were for 20+ yards. While having 13 receptions is not something to brag about, his efficiency is. The former third-rounder is averaging 21 yards per reception.
Yes, his 275 receiving yards is the lowest among the big three wideouts. His average yards per reception, however, is the best by a whopping 6.5 yards.
It may not seem like it, but he is on pace to surpass 1,000 yards in back-to-back seasons. If he maintains his 68.8 yards per game, then he will end up with 1,101 receiving yards in a full season.
If you expected Gallup to be playing off the charts, then you were expecting too much. The Dallas Cowboys have a ton of receiving options at their disposal. He was bound to see fewer targets.
The upside is that he remains a lethal threat down the field. I am impressed by what the wideout has done in making the most of his opportunities.
While it's only four games into the season, Gallup is on track to improve in one area that caused some concern for Cowboys fans. He has only one drop to his name, which is only a 4.2 percent drop percentage. That is down from 9.7 percent last season.
When the Dallas Cowboys grabbed this player, it became apparent that Gallup's targets will drop. Let's look into him next.