Dallas Cowboys: Dalton Schultz's emergence presents interesting questions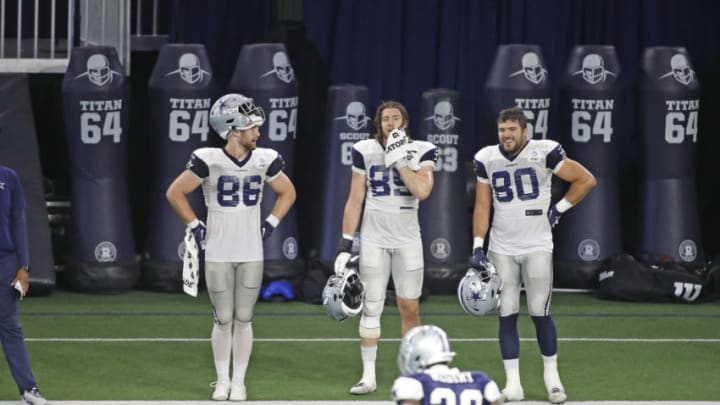 Dallas Cowboys tight ends Dalton Schultz , Blake Jarwin and Blake Bell (James D. Smith via USA TODAY Sports) /
Dallas Cowboys tight end Blake Jarwin (89) (Bill Streicher-USA TODAY Sports) /
The Dallas Cowboys expected Blake Jarwin to be the guy at tight end, but he went down with injury. Dalton Schultz has emerged and they should embrace it.
The Dallas Cowboys were finally ready to fully walk away from Jason Witten. Even after retiring from the game for some time in the booth calling games, they were still ready to welcome him back with open arms when he was ready to return.
Well, letting him play for another team in the NFL for the first time in his career this season, that era is officially over. It was supposed to be the Blake Jarwin era, as he landed a new deal after showing promise over the last few seasons for Dallas.
He was hurt in week one though, lost for the year after tearing his ACL. Then it happened.
Dalton Schultz emerged and all of our thoughts had been validated. We had two decent to really good tight ends behind Witten as early as last year, they just couldn't get all of the snaps.
One got enough to land a new deal this offseason in Jarwin, but the other was still waiting on his opportunity. Unfortunately via a season-ending injury, Schultz has stepped in and fully capitalized on said opportunity.
Not to be outdone and though not the complete tight end that the other two are, as he is a load as a blocking guy, Blake Bell isn't that bad of a player either as that second/third guy in the group. That's exactly where we want to live in this chat though.
That's the subject of this conversation. That would be the versatility of the group, how the emergence of Schultz has created interesting opportunities, and potentially even fixes for this Cowboys team.