Dallas Cowboys first round selection down to four options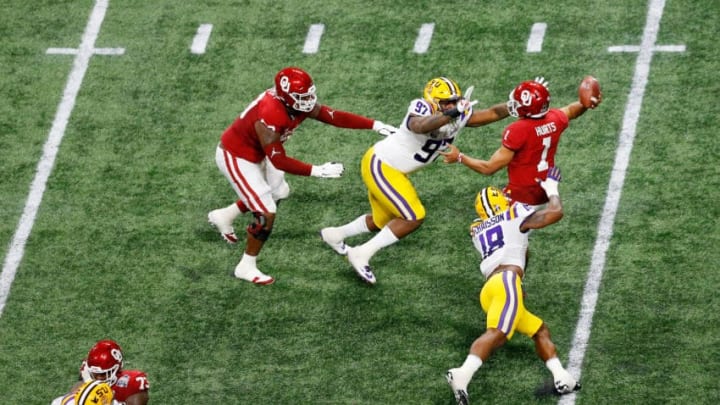 ATLANTA, GEORGIA - DECEMBER 28: Quarterback Jalen Hurts #1 of the Oklahoma Sooners is tackled by defensive end Glen Logan #97 and linebacker K'Lavon Chaisson #18 of the LSU Tigers during the Chick-fil-A Peach Bowl at Mercedes-Benz Stadium on December 28, 2019 in Atlanta, Georgia. (Photo by Mike Zarrilli/Getty Images) /
As positional needs continue to be addressed in free agency, the Dallas Cowboys first-round selection is likely down to four options.
If we're being honest, the Dallas Cowboys offseason has been up and down so far. They were able to retain their two most important free agents on the offensive side of the ball. In doing so, however, they lost their two most important defensive free agents.
The Cowboys finally addressed huge needs on the interior defensive line, only to lose a five-time Pro Bowl center to retirement. Dallas upgraded their safety position and solidified their tight end position, even if both spots could still use more attention. There is also the whole two kickers thing, which is equal parts odd and necessary.
Now, with free agency nearing the final stages of completion and the 2020 NFL Draft looming, it makes one wonder the following. How do all of these moves shape what Dallas does in the draft?
In my opinion, there are only four real options for the Dallas Cowboys when it comes to the 17th overall selection. Let's take a quick look at the positional breakdown of this team to see where a need still exists.
Quarterback – Nope. Especially via the draft. If Cam Newton or Jameis Winston wants to be a backup on the cheap, fine. Otherwise, it's Dak Prescott and Cooper Rush.
Running back – Double no. Ezekiel Elliott and Tony Pollard both need more touches.
Tight End – In the first round? 100 percent, absolute no.
Offensive Line – Pass.
Linebacker – There are already six guys on the roster and likely no one available at 17 would start, so no.
Special teams – Come on.
That leaves three possible options left for the Dallas Cowboys first-round selection in the 2020 NFL Draft. Let's rank those from least to most important, shall we?
If either CeeDee Lamb or Henry Ruggs, III are on the board a bigger need is absent, you could talk me into a wide receiver. Even though Amari Cooper was re-signed in free agency, the Cowboys can get out of this deal in 2022 for the fairly inexpensive price of $6 million. In the meantime, Cooper, Michael Gallup and one of those two guys would be ridiculously fun to watch.
Still, I'm ranking this option as the least necessary of the three biggest needs with pick number 17. Let's open door number two.
The signing of Ha Ha Clinton-Dix to go along with Xavier Woods makes drafting a safety in round one almost unnecessary. The Dallas Cowboys need to address this spot with one of their top 100 selections, but likely not a pick 17. Cornerback, on the other hand, is a completely different story.
It is basically an open secret that Dallas is one live chicken sacrifice away from trying to will Florida cornerback C.J Henderson to be available at this spot. What if he is gone, though? Is there another defensive back worthy of such a high selection? I don't think so.
That leaves the defensive line as my go-to, number one need for the Dallas Cowboys first-round selection. I'm completely on record as saying being all-in on continuing to re-build this unit. Do I want Everson Griffen? Absolutely. As each day passes, however, I'm not sure that's realistic.
Should we pump the breaks on the Randy Gregory optimism? 100% Yes. Am I in love with bringing in Gerald McCoy and Dontari Poe? You bet I am. Still, it's not enough.
McCoy, Poe and DeMarcus Lawrence give Dallas three very good defensive linemen. Everything behind them is questionable at best. Even with $22 million in cap space left, the Cowboys will gain more, either by getting Tyrone Crawford to take a pay cut or be cut. It is entirely possible that all he has left is a locker room presence.
Dorance Armstrong could be interesting with more of a role. Obviously Trysten Hill needs to show massive improvement in year two and the duo of Jalen Jelks/Joe Jackson are unknown.
Because of all of these questions behind the big three, give me a pass-rusher like K'Lavon Chaisson or an inside man like Javon Kinlaw with number seventeen overall. If neither are available though, option four makes the most sense to me.
I'm increasingly becoming more and more convinced the right move could be to trade down. This has me thinking if you can either get a 2021 first-round pick and a fourth-round pick in 2020 or a swap of this year's first-round selection and a late second/early third-round choice this year, I would do it with those five guys above off the board.
A team like the Miami Dolphins, who are loaded with picks, might be intrigued to use picks No. 26 and No. 70 to move up to No. 17 to fill a huge void. The Seattle Seahawks also could be into doing business with picks No. 27 and No. 64 if someone they love is there at No. 17. Regardless, Dallas should be investigating league-wide interest when their time on the clock comes.
If no one bites, the Dallas Cowboys' three biggest positional draft targets should be defensive line, cornerback or receiver. Focusing on the best player available should definitely be paramount but these three positions should garner the most attention. If any of the five players mentioned above are there when Dallas is on the clock, you (and they) should be happy.