Dallas Cowboys draft: How valuable is the 17th overall pick?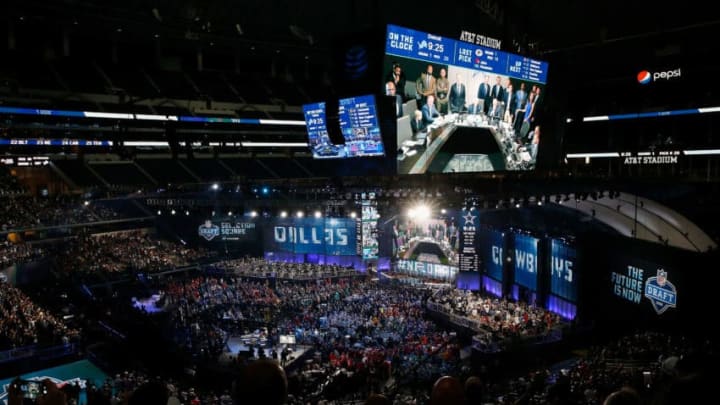 ARLINGTON, TX - APRIL 26: The Dallas Cowboys war room is seen on a video board during the first round of the 2018 NFL Draft at AT&T Stadium on April 26, 2018 in Arlington, Texas. (Photo by Tim Warner/Getty Images) /
With their highest draft position since 2016, the Dallas Cowboys are sitting on a desired hand. Just how valuable is the 17th overall pick in the draft?
Heralded wide receiver Amari Cooper was a necessary addition in exchange for the surrender of 2019's first round draft pick for his services. Though Dallas Cowboys management grimaced through the ensuing draft day sting of such a bold move.
Cooper helped keep the 2018 season afloat when there were no other answers to the coming devastation. His presence turned a flailing 3-4 season into a 10-6 regular season finish capped off with an elusive playoff victory.
The spell wore off after losing in the second round to the Los Angeles Rams. Another season falling short of conference championship contention abruptly shifted to a coming draft with no first round pick to help right the wrongs.
The Cowboys have spent the last three NFL drafts without a draft pick as high as their current slot at Pick 17. While fans fully understand their team is back in the draft splash mix, it's only appropriate to assess how valuable the 17th pick really is.
TRADING UP FOR A GAME CHANGER
The Cowboys hold the 17th, 51st, and 82nd overall picks in the money rounds (first three rounds) of the 2020 NFL Draft. According to the widely accepted draft pick points chart, let's take a basic look at Dallas' purchase power if a trade up is desired.
Trading Cowboys' 1st and 2nd selection to move up:
17th Pick (950 points) + 51st Pick (390 points) = 10th Pick (1,300 points)
Trading Cowboys' 1st and 3rd selection to move up:
17th Pick (950 points) + 82nd Pick (180 points) = 14th Pick (1,100 points)
Very few teams will accept an even points swap, so the suitor below must sweeten the pot to draw interest. In both scenarios above Dallas is on the losing end by 30-40 points, but that's the least it would take to execute a leapfrog.
TRADING DOWN FOR MORE ABLE BODIES
With the 17th pick (950 points), the Cowboys do hold a juicy carrot to dangle for a team(s) who just watched their diamond in the rough fall within reach. Let's see what 950 points might command in the form of money round picks.
Moving back to late first round to stockpile another second round pick:
17th Pick (950 points)  = 27th Pick (680 points) + 59th Pick (310 points)
Moving back a bit in first round to gain additional third round selection:
17th Pick (950 points) = 20th Pick (850 points) + 84th Pick (170 points)
While moving back drives most eager fans nuts, it does add needed value to a roster full of question marks. Stacking Top 100 picks does possess real value for teams with virtuous scouting departments.
The Cowboys are arguably one of the elite franchises when it comes to draft analysis and speculation. It's highly unlikely they would trade down more than a few spots from Pick 17 assuming the board falls right, but never say never on draft day.