Five teams who could ruin the Dallas Cowboys draft in 2020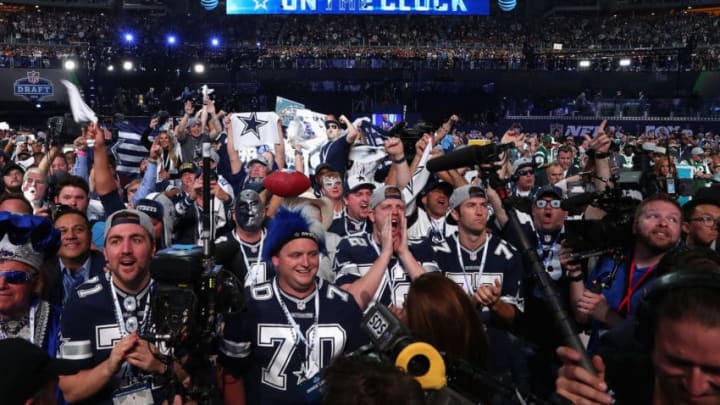 Dallas Cowboys fans at the 2018 NFL Draft (Photo by Tom Pennington/Getty Images) /
(Photo by Jon Durr/Getty Images) /
Atlanta Falcons
Draft Pick: #16
Team Needs: Edge Rusher, Cornerback, Safety, Interior Defensive Line, Tight End
The last team on this list is the team that picks right before the Dallas Cowboys, the Atlanta Falcons. Everything that the Cowboys need on defense matches everything that the Falcons need, the same goes for the offense.
The Cowboys will probably draft a receiver, but they will be looking for a tight end with Jason Witten and Blake Jarwin entering free agency. The Falcons will also be looking at receivers after trading Mohamed Sanu to the Patriots and Austin Hooper becoming a free agent this offseason.
It's never a good thing when the team drafting before you are looking to fill the same holes on your team as they are. The Cowboys are going to have to hope that the Falcons covet certain positions over others if they want to have a chance at getting players that they want.
It's either that of the Cowboys are going to have to try trading in front of the Falcons, and no team wants to give up draft capital unless they player is in the words of owner Jerry Jones a "War Daddy".
All of the teams before the Falcons have a chance to ruin the Cowboys draft but if I had to choose one team out of all of them it would have to be the Falcons.
What are your thoughts about what will happen in the NFL Draft for the Dallas Cowboys? Do you see any other teams that could throw a wrench in the Cowboys plans and potentially ruin their draft? Let us know your thoughts in the comment section below.