Five teams who could ruin the Dallas Cowboys draft in 2020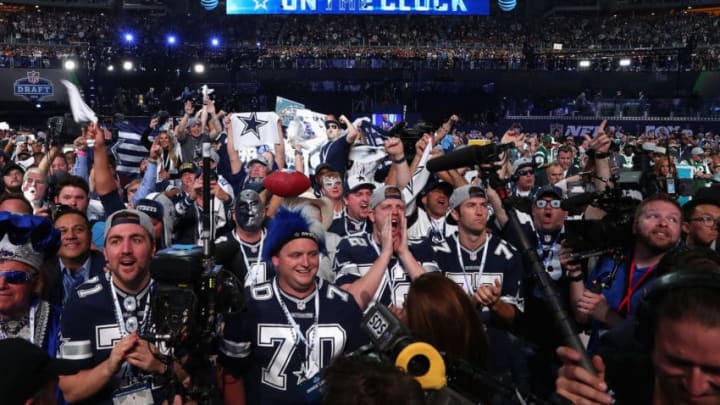 Dallas Cowboys fans at the 2018 NFL Draft (Photo by Tom Pennington/Getty Images) /
(Photo by Ronald Martinez/Getty Images) /
The Dallas Cowboys have seen players they coveted drafted before they had a chance. So let's look at the teams that could ruin their draft this year.
Every year the Dallas Cowboys seem to have to go through a minefield of teams with similar position needs as they have. This year is no different there are a few more than usual with some early in the draft and some closer to the Cowboys 17th pick.
While all of them might not have every need the Cowboys do, each will still be a team to watch when they are on the clock later in April and your favorite prospect at cornerback, interior defensive line, edge rusher, safety, and tight end are still on the board.
Washington Redskins
Draft Pick: #2
Team Needs: Edge Rusher, Cornerback, Tight End, Wide Receiver, Safety, Offensive Line
The Redskins are under new management and with new head coach Ron Rivera at the helm we can assume that they are going to focus heavily on the defensive side of the football. They need a lot of help on defense at the cornerback, safety, and pass rusher positions after ranking 27th in overall defense. The team wasn't able to generate pressure on quarterback off the edge and that led to their secondary allowing 35 touchdowns.
But the defense isn't the only problem for the Redskins, just like the Dallas Cowboys they are going to be looking for pass catchers. After a poor season from all wide receivers not named Terry McLaurin and all of their tight ends this team, both will be targets for this team. Though they will more than likely target offensive linemen before either of these two positions so they can protect their young franchise quarterback Dwayne Haskins.
With the second pick in the draft, they will always have the ability to take the best players available in the draft and are going to be just as big of a rival in the draft this year as they are when they take the field against the Dallas Cowboys during the season.