Cowboys at Eagles: 5 questions from behind enemy lines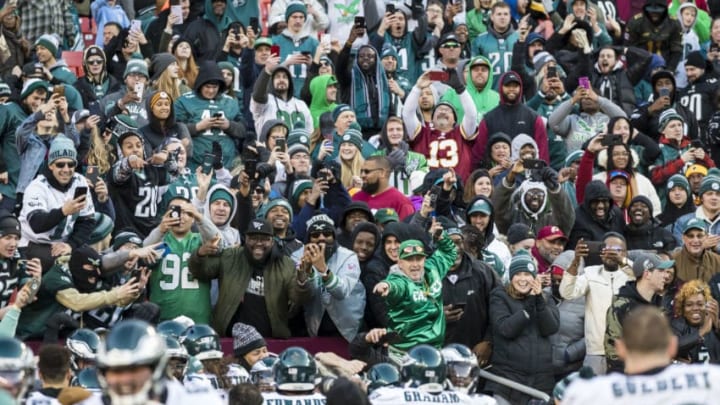 LANDOVER, MD - DECEMBER 15: Fans celebrate with Philadelphia Eagles players after the game against the Washington Redskins at FedExField on December 15, 2019 in Landover, Maryland. (Photo by Scott Taetsch/Getty Images) /
With the Dallas Cowboys facing a pivotal matchup against the Eagles this weekend, we went behind enemy lines with Inside the Iggles.
The 7-7 Dallas Cowboys can lock up their division and win the NFC East crown for the second-year in a row with a victory over the 7-7 Philadelphia Eagles this Sunday.  It is undoubtedly the most important single game of the season.
With so much at stake, we decided to approve a special covert mission, behind enemy lines. With five questions in a secure diplomatic pouch, we had a secret meeting with with Geoffrey Knox, site expert at FanSided's Philadelphia Eagles site, Inside the Iggles. Here's the information we were able to obtain from that conversation.
#1. What is the biggest single reason the Philadelphia Eagles are 7-7 this season?
GK: I feel I'd actually have to give you two, self-inflicted wounds and inconsistent play on both sides of the ball. There were too many turnovers versus the Detroit Lions. There have been too many dropped passes, many of which cost the team an opportunity to keep drives going, and they settled for three points instead of seven.
At other times, they dropped passes that should have been touchdowns. Nelson Agholor dropped one versus the Atlanta Falcons. Dallas Goedert and JJ Arcega-Whiteside both dropped one versus Detroit. JJ's probably would have resulted in another win.
When they aren't doing that, it's the penalties or the inconsistency. One minute, they're stout on defense but they can't keep drives going. The next, they score well enough to win, but they can't stop anyone either.
If they can put four solid quarters together consistently, they'd be fine, but we haven't seen that all season.
#2. Name a relatively unknown Eagles player that will surprise Cowboy fans on Sunday.
GK: By now, they may not be unknowns anymore, but the fan base is on fire following two solid performances by wide receiver Greg Ward and running back Boston Scott. They're getting a chance to make their marks and they're both taking advantage of that.
Ward hauled in the game-winning TD catch in Week 15 and was the only receiver who actually caught a pass. Scott may see his touches decrease if Jordan Howard makes his long-awaited return in Week 16, a real possibility, but Scott will still see some playing time. He's been electric and the light switch seemingly flipped on from out of nowhere.
Unfortunately, Philly isn't getting much out of guys we thought would break out in offense and defense.
#3. What are your biggest concerns following the Eagles last two wins over the Redskins, Giants.
GK: All wins aren't equal, and regardless of what people say, yeah, a win is a win, but sometimes they aren't very encouraging. This team lost to the Miami Dolphins. Then they needed overtime to put the Giants away. Then, for an encore, they went through you know what to secure a win over the Redskins.
This team shouldn't be struggling in those games, but at the same time I'm stuck. This is either a bad team that's overachieved or a decent team that's underachieved. I can't decide what to call them other than disappointing.
#4. What worries you most about facing the Cowboys in Week 16?
GK: Ezekiel Elliott is my concern. With him in the lineup, the Eagles are 0-5, and traditionally, he's had some good games versus Philly. After that, I'd say a weak secondary that's allowed some below average quarterbacks to flourish. It's been tough sledding, and I've been critical of Dak Prescott but I know he's better than Eli Manning and Dwayne Haskins.
Then, there's also the other thing. If Lane Johnson can't go, this is going to be a rough outing for Halapoulivaati Vaitai if he has to fill in for another week. He has his moments, but he's not an NFL-caliber tackle.
#5. What's your prediction for the game, a final score prediction, and do you see the Eagles ultimately winning the NFC East?
GK: My heart and head tells me that they won't, but on too many occasions, I've seen them show up out of nowhere versus teams that they should lose to. It just feels like that is where this one is headed. I'd say Dallas would win if this was in Arlington, but I think Philly gets it done in a game that looks a lot like the game these two teams played at AT&T Stadium last year. This time, the "Birds" come out on top though. I say 20-17 in favor of Philadelphia.