Dallas Cowboys: Should stars trust ownership and take less money?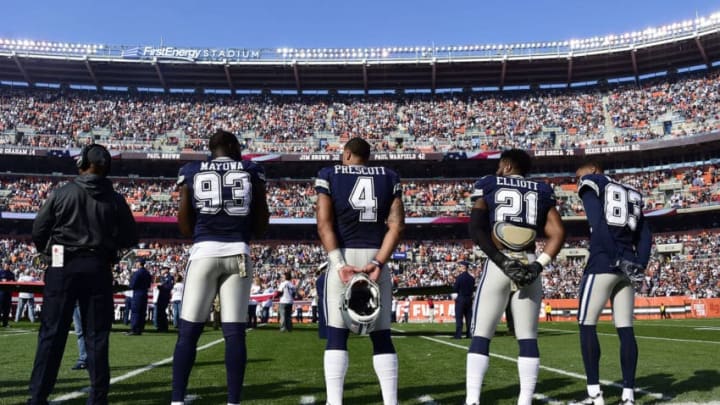 CLEVELAND, OH - NOVEMBER 06: Benson Mayowa #93, Dak Prescott #4, Ezekiel Elliott #21 and Terrance Williams #83 of the Dallas Cowboys stand during the National Anthem at FirstEnergy Stadium on November 6, 2016 in Cleveland, Ohio. (Photo by Jason Miller/Getty Images) /
The Dallas Cowboys are trying to lock up their core players for the foreseeable future. Should these stars take less in order to have more around them?
All the rage in the Dallas Cowboys' news-o-sphere over the past couple of days has been about the potential contract extensions for quarterback Dak Prescott, wideout Amari Cooper, and arguably the best running back in the league in Ezekiel Elliott. Although most of the questions have come from the perspective of exactly how much money is too much money to pay the star player in question, there is another question at hand.
Cowboys executive vice president and CEO Stephen Jones has gone on record with somewhat of a noble request of his players that are currently up for new deals. He has been quoted as saying that he will try to get his guys to not max out their new deals, in hopes that they may then acquire the requisite talent to put around them in hopes of competing for a Super Bowl.
When thinking about if this is a viable plan, it is. If you look no further than the organization who sets the bar for Super Bowl Championship teams and how a National Football League team should be run, the proof is in the pudding.
The New England Patriots, and more specifically their Hall of Fame Quarterback in Tom Brady, have practiced this very tactic for years. Brady, according to Business Insider, has sacrificed at least $60 million over the course of his career in order for the Patriots as a whole to be the best team they could be. This is an example of that plan succeeding if either of the Joneses, Prescott, Cooper, or Elliott needed tangible proof.
When thinking about it from a financial perspective, each player could still do really well. Although it is almost sacrilegious to count another person's money, each player wouldn't be sacrificing that much in the grand scheme of things. What could complicate matters though, is that this is probably the best chance for each player to sign the largest contracts they will ever receive, which are very tempting offers.
If you take Prescott's deal in example, one in which many predict will be at least in the $30 million per year range, he could scale back to about $26 million per. If you take a look at the deal that Cooper may be offered, at either four or five years at about $16 million for estimations purposes, $14.5-15 million per wouldn't be an awful look. In looking at a potential extension for Zeke, you would take a look at Todd Gurley's four-year/$60 million deal as the starting point.
Whereas that deal averaged out to about $15 million per year, with $45 million guaranteed, Zeke should definitely be in that range. As opposed to $45 million guaranteed though, how about something closer to $40 million in guarantees and at about 13 million per year, or even totally guaranteed if he took $11 million per season.
In totality, this would save the Cowboys an average of about $23 million across four seasons, or about six million extra dollars per season. Although it doesn't seem like a ton, that could be the difference in landing that key free agent who changes the future or acquiring that mid-season addition who will ensure certain levels of success.
To completely address the possibility, it would be the smartest thing for all the players mentioned. Although taking the most possible money up front appears like the smartest thing to do immediately, the residual effect of being a Dallas Cowboy alone is valuable, but to have been one that won a Super Bowl is priceless.
Troy Aikman, former Cowboys SuperBowl-winning quarterback now makes millions to call NFL games for FOX, while non-SuperBowl-winning quarterback Tony Romo is determined to make even more than Aikman by calling games for CBS. This is the value of being a Dallas Cowboy. They could easily re-coop any perceived financial losses by leveraging the fact that they are Cowboys, either now or in the future.
With all that in mind, should the stars take less? They should take less, especially if it is all about winning, as they all will tell you anytime a microphone is shoved in their face. Will they take less though?
Probably not. Keep trying though Stephen, anything to win the big one.