Will the Dallas Cowboys hit the compensatory lottery again?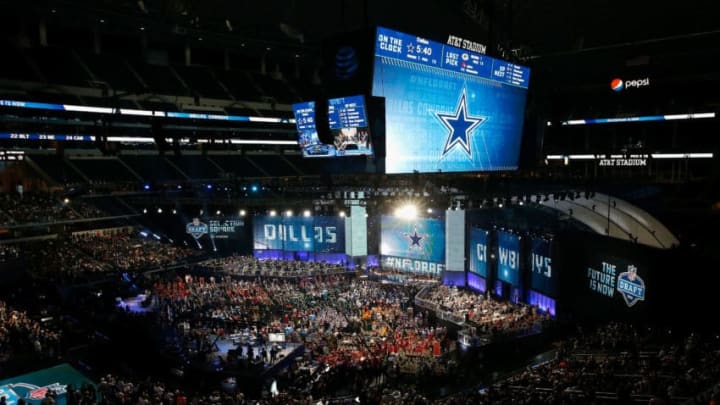 Dallas Cowboys, 2018 NFL Draft (Photo by Tim Warner/Getty Images) /
After earning the maximum four compensatory picks in April's NFL draft, what does this year's free agency losses by the Dallas Cowboys mean for 2019?
When it comes to free agency in the NFL, compensatory selections have become a huge factor in deciding whether to sign veteran players or not. The league determines how many additional draft picks a team is granted using a formula that takes into account the players that are both added and lost during a specific period of the previous year's offseason.
For the Dallas Cowboys, this resulted in the maximum allowed four compensatory selections being awarded to America's Team prior to the 2018 NFL Draft. That was mainly due to the heavy free agency losses they suffered the previous year.
The Cowboys lost several starters in the offseason of 2017. Veteran players like defensive end Terrell McClain, guard Ronald Leary, safeties Barry Church and J.J. Wilcox plus cornerbacks Brandon Carr and Morris Claiborne. That resulted in the Cowboys being awarded an extra fourth round pick, two fifth rounders and an additional sixth round selection in April's annual event.
In total, the Cowboys had a whopping 10 picks to use in the 2018 NFL Draft. And Dallas ended up using nine of them. The team loaded up on young prospects, which was very much needed after losing longtime veterans like wide receiver Dez Bryant (released) and tight end Jason Witten (retired) over the past couple months.
But according to NFL.com, the Cowboys aren't projected to win the same compensatory lottery for a second year in a row. In fact, the league's official website predicts Dallas will only be awarded one extra pick for the 2019 NFL Draft.
They believe the Cowboys will be granted an additional fourth round selection in next year's draft following the team losing starters like linebacker Anthony Hitchens and guard Jonathan Cooper to free agency. But hurting Dallas is the fact they signed tackle Cameron Fleming and defensive end Kony Ealy.
Next: Dallas Cowboys - 15 best first-round picks of all-time
Still, an extra fourth rounder is very valuable. This year, the Cowboys used their compensatory selection in that round to draft Stanford tight end Dalton Schultz. The rookie is currently the favorite to replace Witten in the starting lineup. Two years ago, Dallas used a compensatory pick in the fourth round to draft Mississippi State quarterback Dak Prescott.