Dak Prescott needs first win in New York on Sunday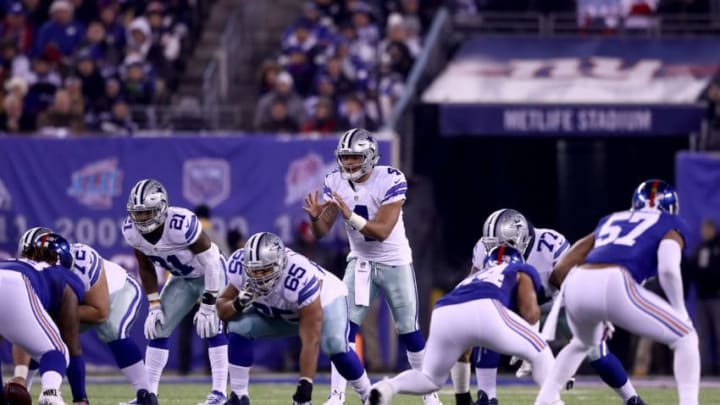 EAST RUTHERFORD, NJ - DECEMBER 11: Dak Prescott /
Among the many career milestones that lie ahead for Dallas Cowboys quarterback Dak Prescott is a badly needed victory at MetLife Stadium against the New York Giants.
Dallas Cowboys quarterback Dak Prescott had a sensational rookie season in 2016. As soon as that inaugural campaign was complete following a playoff loss to the Green Bay Packers, out came the critics that started claiming that Prescott wouldn't be able to duplicate that highly unexpected performance in 2017.
This is was a rather easy call for several reasons. There would be a first-place schedule to deal with, along with the standard diet of six games against the always competitive NFC East. There was talk of a possible suspension for fellow '16 rookie Ezekiel Elliott. David Irving would then get suspended and obviously the league would have plenty of time to adjust to a Cowboys team that had changed its offensive philosophy from what it had been with Tony Romo at quarterback.
Sunday's Week 14 meeting with the New York Giants represents all the proof one needs that Prescott has had his struggles as a sophomore, especially during the absence of Elliott and also star linebacker Sean Lee for several games this season.
Having said that, the 6-6 Dallas Cowboys might be on the verge of making a late-season run towards the end of the 2017 regular season, one that's seen an abundance of adversity and complications. Still, this team somehow maintains significant control of it's own post-season destiny.
For any of these playoff scenarios you've been reading about to mean anything, Dak Prescott has to do something he's never done before, which is win a football game in the Big Apple.
If you'll recall, the only team on last year's schedule that Prescott failed to beat in a meaningful game was none other than the New York Giants. The Cowboys lost a tight game against Big Blue in the 2016 season opener at AT&T Stadium and then fell again at MetLife Stadium on a cold and rainy night in New York on Week 14.
To this point, Dak Prescott has already fixed the issue of beating the Giants at home with the Cowboys beating New York in the '17 season opener without giving up a single touchdown against what was once a rather powerful offense led by Eli Manning.
The Landry Hat's own Brad Austin pointed out this week that the Dallas Cowboys can make history on Sunday if they can make it two games in a single season without giving up a single touchdown against the Giants. It would be an unlikely accomplishment, even if it's rather unlikely.
Then again, here comes Manning & Co. the week after the veteran quarterback was benched and also without former head coach Ben McAdoo, who was fired almost immediately after trying to get a head start on next season by starting Geno Smith on Week 13 against the Oakland Raiders.
Yes, the Giants are a mess, but with longtime defensive coordinator Steve Spagnuolo running things for the remainder of the season, I hesitate to say that the drama experienced in New York over the last week and a half is reason enough to guarantee a Dallas victory on Sunday.
In actuality, Dak Prescott and an offensive line that played remarkably well against the Washington Redskins last week is a better indicator to point to. Perhaps even more important is the expected return of Lee from another injury that has cost him multiple games for the second time this season. The numbers don't lie when you compare how the Dallas defense performs with and without Lee in the lineup.
Next: Will Dallas Cowboys make history, deny Giants touchdown?
Call it revenge for last season's sweep or just an early playoff game in the month of December for America's Team. All that matters is that Dak Prescott comes away with his first win in the Meadowlands on Sunday. The season simply depends on it.