Dallas Cowboys enjoy weekend amidst NFC East dysfunction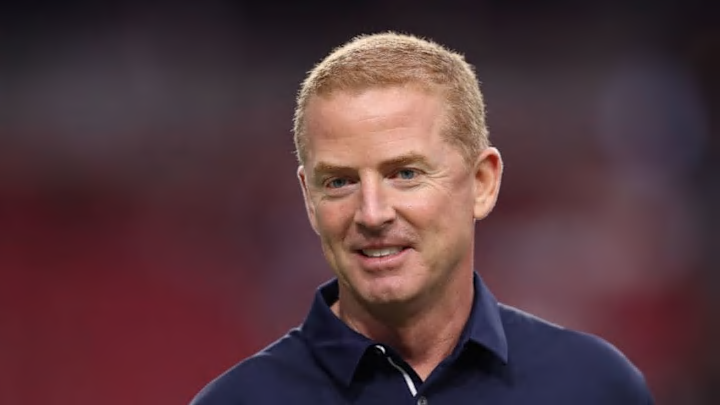 GLENDALE, AZ - SEPTEMBER 25: Head coach Jason Garrett of the Dallas Cowboys watches his team warm up before the NFL game against the Arizona Cardinals at the University of Phoenix Stadium on September 25, 2017 in Glendale, Arizona. The Coyboys defeated the Cardinals 28-17. (Photo by Christian Petersen/Getty Images) /
Following a weekend in which every team but the Dallas Cowboys lost, the NFC East looks awfully dysfunctional both on and off the field to start December.
In the matter of just four days, the Dallas Cowboys were able to enjoy watching as one divisional foe fired their head coach and two others laid dinosaur-sized eggs on the field.
Just another typical weekend in highly dysfunctional NFC East.
On Thursday night, the Cowboys found a little of their mojo in a 38-14 victory of the Washington Redskins. Somehow, this team with just 22 points in their previous three games was able to erupt for 38 points. Even more bewildering is that this was done while quarterback Dak Prescott completed just 11 passes for 102 yards.
If this type of performance was to occur at the expense of anyone, it would be Washington.
The Redskins are what one may consider low-key dysfunctional. On the surface, it appears things are steady with a decent head coach in place. The owner, usually at the forefront of anything you would file under "crazy," "dysfunctional," or "ridiculous," has been relatively quiet of late.
Don't let all that fool you though. Their organization maintains a constant state of dysfunction.
Whatever your particular flavor is, the Redskins probably have you covered. You could start with their highly offensive team nickname which they refuse to change. Maybe it's the field they play on which is in need of forever repair.
As for the product on the field, any time you have a chance to replace two 1,000 yard receivers with no one who will come close to eclipsing that, you have to do it right?
Lastly, there is that whole quarterback fiasco that is sure to end ugly. Since 2000, Washington has had 16 different starting quarterbacks. In that type span, they have only made the playoffs four times, winning just one playoff game. Those two facts go hand in hand.
Since 2015, they have had the same quarterback, Kirk Cousins.   All he has done is average 280+ yards per game passing on a 68% completion rate with a better than 2:1 touchdown to interception rate.
Naturally, Washington refuses to give Cousins a long-term deal and will likely watch him leave next year for a team willing to commit to him.
The Dallas Cowboys have won eight of the last ten against Washington. It's fair to say they have been able to take advantage of this dysfunction.
On the top of Mount Cuckoo For Cocoa Puffs currently is the New York Giants.
You remember them, right?   How could you possibly forget as they are seemingly making news on a weekly basis for anything besides their play.
After 15 years under head coach Tom Coughlin, a reign that earned them two Super Bowl rings, the Giants essentially forced him out for a first year offensive coordinator in Ben McAdoo.
Last season, the Giants won eleven games despite their offense being in the bottom third in total yards per game, rushing yards per game and scoring.
This year, the offense is still pathetic but the defense cannot bail them out anymore.
If that wasn't enough, internal suspensions due to "detrimental conduct" by players have been a common theme in 2017. The final straw, however, had to have been the benching of quarterback Eli Manning.
These moves, resulting in yet another loss, cost both the head coach and the General Manager their jobs yesterday. Apparently, Manning will be reinstated as a starter, just as the Cowboys head into town this coming weekend.
Then there are the Philadelphia Eagles.
The darlings of the NFC with a 10-2 record. Everyone's chic pick to make a Super Bowl run. What could possibly be wrong with them?
Don't let that shiny record distract you from the fact that the Eagles have a big problem. They cannot beat anyone who's actually, you know, good.
Sunday night, they went up to Seattle to face the Seahawks and were able to muster a whopping ten points. This against a team missing two All-Pro's from a defense that recently gave up 38 points to the Texans and 34 to Atlanta.
Examine the Eagles 10-2 record more in depth and you will find a team that seems awfully fraudulent.
Philadelphia has only played two teams with winning records (Carolina and Seattle) and are 1-1 in those contests. They have played just as many teams with a record of 2-10.
In fact, the combined win/loss record of their 2017 opponents is 59-85.
A loss next week to the 9-3 Los Angeles Rams will only make things look worse for the eventual NFC East champs.  The city of Philadelphia is notorious for its negativity towards their own teams. The pressure that would build from back-to-back losses could easily create some dysfunction to finish the season.
Next: The top 30 moments in Dallas Cowboys history
Meanwhile, the Dallas Cowboys, for once this season look like the most competent of all their divisional foes.  The NFL is a week to week league so we better enjoy this moment for the few days we have left.