Dallas Cowboys 2016 draft class starting to lose their luster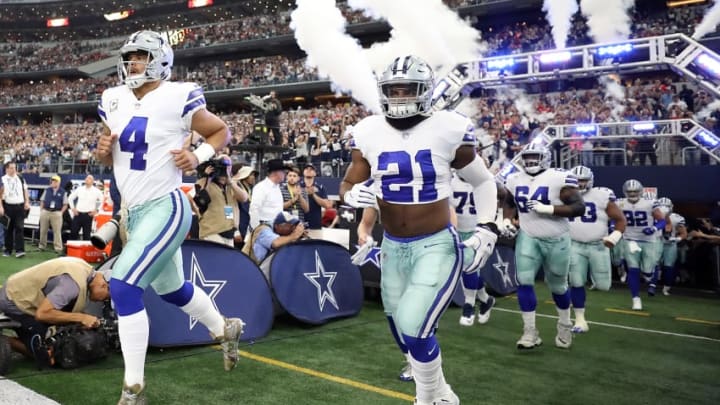 ARLINGTON, TX - NOVEMBER 05: (L-R) Dak Prescott #4 and Ezekiel Elliott #21 of the Dallas Cowboys runs onto the field before a game against the Kansas City Chiefs at AT&T Stadium on November 5, 2017 in Arlington, Texas. (Photo by Ronald Martinez/Getty Images) /
The Dallas Cowboys 2016 draft class should have ushered in the league's next great dynasty. Instead, this once shiny group is starting to lose their luster.
They say you should wait three years before judging the results of a NFL draft. But the Dallas Cowboys 2016 draft class seemed destined to be one of the franchise's all-time best. But a year and a half later, suddenly this shiny bunch has lost some of their luster.
Obviously, the two biggest names to emerge from this group are running back Ezekiel Elliott and quarterback Dak Prescott.
Selected fourth overall, Elliott was the crown jewel of this Cowboys draft class. And Zeke proved to be the difference maker last season, leading the league in rushing yardage as a rookie (1,631), helping the Cowboys post a 13-3 record and earn a first round bye in the playoffs.
In his second year, Elliott has proven just how valuable his presence is to the team through his absence. Now suspended for suspected domestic violence, the Cowboys have looked like a shell of themselves the past three games. With three more to go before Zeke returns, it seems unlikely Dallas will return to the postseason by the time Elliott is eligible to play again.
Here's the scary thing. One bad decision between now and the end of Elliott's NFL career could result in a year-long ban or even worse. Zeke is truly a transcendent player. Put his poor decisions off-the-field have not only hurt himself, but the Cowboys franchise as well. The two are intertwined now. So the hopes and dreams of America's Team are directly linked to the choices of a 22-year old, immature millionaire. Scary.
As for Prescott, he is everything Elliott isn't off-the-field. On it, the reigning rookie of the year and former fourth round pick is a glorified game-manager who plays his best when opposing defenses are scared of his ability as a runner, not a passer.
Prescott is not a Russell Wilson-type who can carry the bulk offense when everything around him is crumbling. We are slowly discovering that Dak needs the support of talented players to be effective. He simply doesn't appear to have the ability, at this point, to lift the play of those around him.
2016 second round selection, linebacker Jaylon Smith, is actually playing football. That's a miracle in itself considering the devastating knee injury he suffered in college. But Smith is essentially a rookie this season. And at this point, he's a decent back-up who seems to be improving after far too much early action exposed his flaws, which appear to be mostly mental mistakes.
Third round pick, defensive tackle Maliek Collins, had an excellent rookie season and was touted as one of the quickest players at his position last year. But Collins has all but disappeared this season, despite everyone around him reaching new levels of success.
Early fourth round selection, defensive end Charles Tapper, was placed on Injured Reserve for the second straight season in a row. Sixth round selection, cornerback Anthony Brown, was demoted this week after starting 10 games for the Cowboys in his second year. Brown has more called penalties (10) than any other player in Dallas through 11 games.
Fellow sixth rounder, safety Kavon Frazier, is a solid back-up who excels on special teams. But he has been unable to leapfrog rookie safety Xavier Woods or starter Jeff Heath on the depth chart.
Finally, tight end Rico Gathers, the Cowboys final selection in the 2016 NFL Draft, is currently on Injured Reserve following a breakout preseason two game, two-touchdown performance. But a scary concussion injury has sidelined him for months now. And despite being eligible to return weeks ago, Dallas seems to be in no hurry to activate him.
Next: Four Cowboys that should not be back in 2018
Once considered a group that could spark a new dynasty for the Dallas Cowboys has now been exposed in their second season. Although they are still brimming with talent and potential, this once highly-touted group has certainly lost some of their initial luster. How they will look in 2018 is anyone's guess.