The Dallas Cowboys have hit rock bottom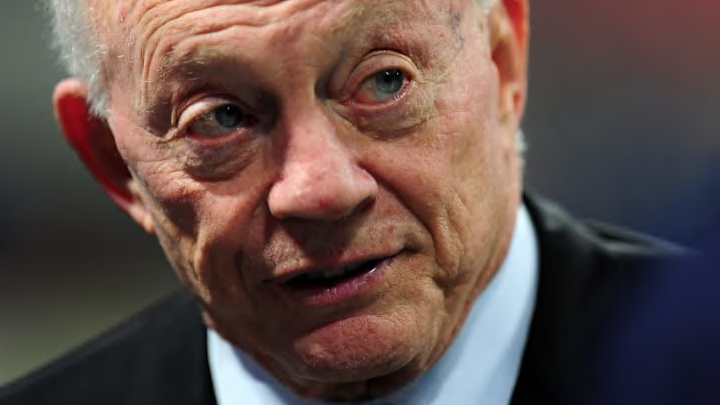 ATLANTA, GA - NOVEMBER 12: Jerry Jones, owner of the Dallas Cowboys on the field prior to the game against the Atlanta Falcons at Mercedes-Benz Stadium on November 12, 2017 in Atlanta, Georgia. (Photo by Scott Cunningham/Getty Images) /
After a third consecutive embarrassing loss, the Dallas Cowboys are left wondering if things can possibly get any worse this season.
This is officially the bottom of the barrel. The Dallas Cowboys have managed their worst offensive showing in a three-game span in the entire history of the franchise. That's right, this has officially been the worst offensive showing in a three-game span dating all the way back to the team's inception in 1960. For the first time ever, the Cowboys have failed to score ten or more points in three consecutive games.
For as storied of a franchise as the Cowboys are they have also had some historically bad seasons. Two seasons in particular come to mind; the inaugural season in 1960 which ended 0-11-1 and coach Jimmy Johnson's first season in 1989 which ended 1-15. Even those horrific seasons have never seen efforts like this put on display.
Even with understanding the affects of losing an All Pro running back with the abilities of Ezekiel Elliott would have on any offense, these last three weeks are inexcusable. The Cowboys have managed only 22 points in their past three games. Some teams score that many points in their first couple offensive drives of games, let alone three weeks.
Are we to sit here and ask ourselves if Ezekiel Elliott is, by far, the most important player on this team. Can one man really make this much of a difference? Usually questions with this much significance to them are reserved for quarterbacks such as the likes of Tom Brady and Aaron Rodgers.
But as we have seen the past three weeks, Elliott is clearly the engine that makes this team (especially the offense) run. The next question we have to look at is why/how can one man make this much of a difference? The Cowboys offense is among one of the most talented in the entire league; with or without Elliott.
Their offensive line consists of four first round picks with most considering tackle La'el Collins a first round talent as well. Three of those first round picks have turned out to be multiple time Pro Bowlers. They have a Pro Bowl quarterback in Dak Prescott, a multiple time Pro Bowler at wide receiver in Dez Bryant, and a future Hall of Fame tight end in Jason Witten.
So with this immense amount of talent on offense, how does one man make this much of a difference? We do not have to look any further than the coaching staff. The Elliott investigation was going on for almost a year and a half before the eventual six game suspension was handed down. So not only did coach Jason Garrett and staff have an idea of something possibly happening to Elliott for almost a year and a half, they also had the time spent during the appeals process to prepare.
With all that being said, here we still sit watching embarrassing efforts being put forth week after week. The Cowboys are beginning to become a laughing stock throughout the league while Garrett looks as confused on the sidelines as the players do on the field.  With the players underachieving and deserving a good amount of blame as well, the Cowboys are beginning to look like a team that is completely lost and, dare I say, quit on the season; a situation that could end putting Garret and staff in the crosshairs at the end of the season.
Next: What Jason Garrett just said should anger fans
If this season continues on this path, which looks like a certainty at this point, it will be interesting to see who is held accountable for this disaster of a season. Will anyone be looking for a new job? Will owner Jerry Jones just scapegoat someone to make it look like he is making changes? Or will Jones' blind loyalty to Jason Garret be allowed to continue while riding the excuse of injuries/suspensions?