Dallas Cowboys: Weather could wreak havoc in Week Eight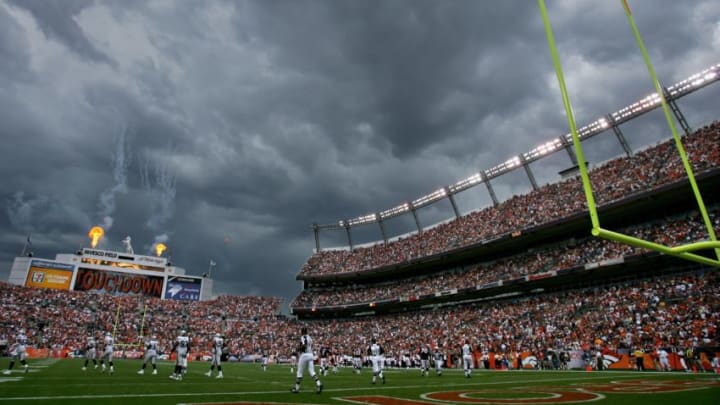 DENVER - SEPTEMBER 16: Storm clouds move in on the stadium as a lightning storm delayed play for 24 minutes during the second quarter as the Denver Broncos defeated the Oakland Raiders 23-20 in overtime during week two NFL action at Invesco Field at Mile High on September 16, 2007 in Denver, Colorado. (Photo by Doug Pensinger/Getty Images) /
The Washington Redskins are not the only opponent the Dallas Cowboys will face on Sunday afternoon as the weather could wreak havoc on both teams.
Some fans believe every NFL game should be played indoors, where the environment can be regulated and controled. Thus giving both teams the opportunity to play their best. Others believe playing outdoors, and at the mercy of the weather, is how the game should always be played.
Currently, there are eight NFL stadiums that are considered indoor arenas. Each possessing a dome-like structure, roof or a retractable one. AT&T Stadium, the home of the Dallas Cowboys in Arlington, Texas, is one of the eight. And the two newest stadiums being built for the Los Angeles Rams and Las Vegas Raiders are planned to be indoor stadiums as well.
For the Cowboys, it means at least half of their games are played indoors. Although the team prepares for both indoor and outdoor play as their practice facility, The Star in Frisco, has fields both outside and in.
Playing outdoors means playing in inclement weather. And as the NFL schedule begins in the fall, winter slowly creeps in as the games get much more meaningful. This Sunday, the Washington Redskins are not the only opponent the Cowboys will be fighting against, as the weather forecast calls for heavy rain and winds.
The Cowboys are scheduled to face the Redskins in their home stadium, FedExField, which is actually located in Hyattsville, Maryland, only 6.5 miles from Washington D.C. It is an open-air stadium. Weather.com calls for possible Thunderstorms, with a temperature in the high 50's and winds up to 10 mph around kickoff.
This isn't the first time the Cowboys have encountered bad weather while on the road this season. In Week Two, bad weather and lightning late in the first quarter delayed their contest against the Broncos for an hour.
Next: Why the Dallas Cowboys are the team to beat in the NFC
With a 75% chance of rain in the forecast, the Dallas Cowboys would be wise to turn to their running game in this presumably wet and muddy matchup. The Cowboys rushing attack currently ranks sixth in the NFL. The Redskins running game? 18th.