Dallas Cowboys to host 2018 NFL Draft at AT&T Stadium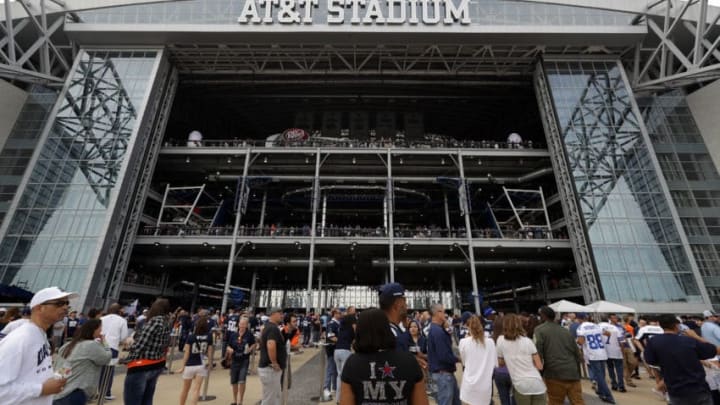 ARLINGTON, TX - OCTOBER 09: Fans enter the stadium prior to the game between the Dallas Cowboys and Cincinnati Bengals at AT&T Stadium on October 9, 2016 in Arlington, Texas. (Photo by Ronald Martinez/Getty Images) /
For the first time in history, the NFL Draft will be held in an active stadium. The home of the Dallas Cowboys, AT&T Stadium, in Arlington, Texas next April.
From 1965 to 2014, the NFL Draft was held in New York. Then the massive offseason event moved to Chicago, Illinois for a two-year stint. Earlier this year, the draft was held outdoors in Philadelphia, Pennsylvania.
On Wednesday, the NFL announced they will now bring the draft to Big D. The 2018 NFL Draft will be held at the home of the Dallas Cowboys, AT&T Stadium, in Arlington, Texas next year.
The draft is a three day event, currently scheduled to take place between Thursday, April 26th through Saturday, the 28th.
The draft, which was held entirely outside in Philly earlier this year, set attendance records with a reported 250,000 attendees. It's the league's biggest offseason event. And being held at the home of the Cowboys, it's expected to only get bigger.
""Philadelphia raised the bar by taking the Draft to another level, and this new opportunity in Dallas will enable us to continue the event's evolution and grow it even further," Commissioner Roger Goodell said in a release via NFL.com. "We are grateful to the Dallas Cowboys, the cities of Arlington, Dallas, and Frisco, and the Dallas Sports Commission for their leadership in turning this vision into reality.""
AT&T Stadium itself will host the main event, as an actual theater will be built directly on the field. Both indoor and outdoor events are planned, celebrating the draft. And all three days of the event will be held at the stadium in Arlington.
There were some initial thoughts of moving one or two days of the draft to the Cowboys training facility and main operations headquarters, The Star, in Frisco, Texas. But the entire event will now solely take place at AT&T Stadium.
Next: Ezekiel Elliott to play Week Seven; Status afterwards unknown
Bringing in potentially hundreds of thousands of fans, getting to host the NFL Draft will be a boon to the local economy in Arlington as well as being a chance for the league's most popular team to flex it's sizeable muscles.