Dallas Cowboys: Dez Bryant laughs off his critics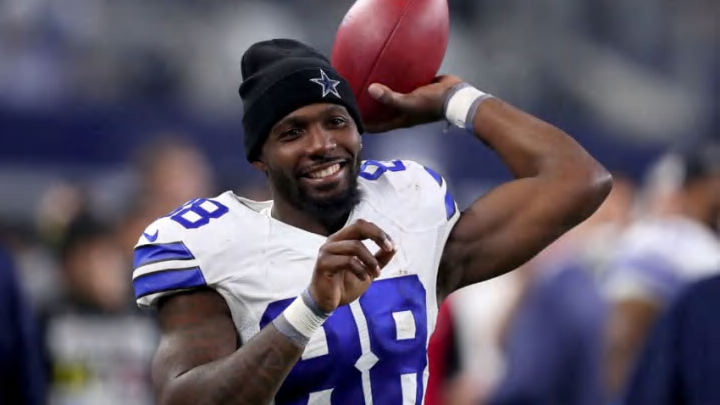 ARLINGTON, TX - DECEMBER 26: Dez Bryant #88 of the Dallas Cowboys throws a ball on the sidelines in the final seconds of the game as the Dallas Cowboys beat the Detroit Lions 42-21 at AT&T Stadium on December 26, 2016 in Arlington, Texas. (Photo by Tom Pennington/Getty Images) /
Despite posting relativity low numbers through his first three games, Dallas Cowboys wide receiver Dez Bryant elects to just laugh off his critics.
When the Dallas Cowboys signed wide receiver Dez Bryant to a monstrous five-year, $70 million contract in July of 2015, the team expected the then 26-year old star to get better and shine brighter in the years to come. And why not? The season prior Bryant had led the league with a career-high 16 touchdown receptions.
Little did anyone know that Bryant would struggle with injuries the next two years, missing a total of 10 games in that span.
The three seasons before signing that big contract, Dez averaged 91 receptions per year. In his last two injury-plagued seasons, Bryant recorded a total of 81 catches for 1,197 yards and 11 touchdowns. A mere fraction of his performance before that massive deal.
So is it any wonder why rumblings of his career decline, despite Bryant being just 28-years old, have gotten louder and louder as his production has dropped. And those rumors haven't exactly been disproven through Dez's first three games of the 2017 regular season.
Despite being targeted 27 times so far this season, more than any other player on the Cowboys' roster, Bryant has only recorded 11 receptions. And the three-time Pro Bowler recorded just two catches in both the Cowboys' Week One matchup against the New York Giants, and in Monday's victory against the Arizona Cardinals. But Dez was also only targeted twice in the Week Three matchup.
So did his lack of targets on Monday night bother Bryant, giving his critics even more ammunition to point to his alleged career decline? Apparently not.
""That's funny to me," Bryant told the Dallas Morning News following the Cowboys victory over the Cardinals. "That don't bother me because I know who I am. Just because certain people don't see me get targets this game, it don't mean nothing. I feel like I got great film, I got great tape. That's what I care about. That was my whole focus, coming out and putting great film out, and I think I did that [Monday night].""
Speaking of great film, Bryant's 15-yard touchdown reception against the Cardinals will likely go down in history as one of his best. So why is it important for Dez to have great tape? Because it reminds opposing defensive coordinators that they still have to scheme for his game-breaking ability. As he showcased with limited targets against the Cards, Bryant can still be a difference maker.
Next: Six Dallas Cowboys whose stock is on the rise
I think any talk of Dez Bryant's decline in Dallas is far too premature. The All-Pro wide receiver is finally healthy, shined brightly in training camp and has faced some of the best cornerbacks the league has to offer in the first three games of the young season. Plus, the Cowboys have a lot of mouths to feed on offense.
But ultimately, his team-leading targets tell the story. Dez Bryant is still the Dallas Cowboys number one wide receiver. That fact has not changed.