Dallas Cowboys: When the punishment no longer matters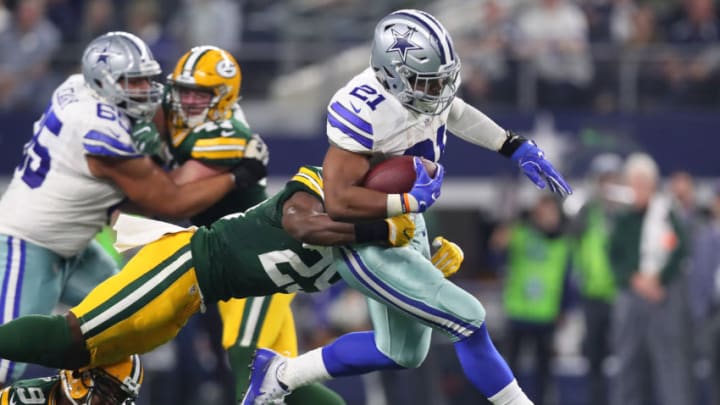 ARLINGTON, TX - JANUARY 15: Ezekiel Elliott #21 of the Dallas Cowboys carries the ball during the fourth quarter against the Green Bay Packers in the NFC Divisional Playoff game at AT&T Stadium on January 15, 2017 in Arlington, Texas. (Photo by Tom Pennington/Getty Images) /
Dallas Cowboys or not, players with great character have long, scandal free careers. But what keeps the others in line when the punishment no longer matters?
The six game suspension of Dallas Cowboys running back Ezekiel Elliott is a sensitive topic for Cowboy Nation. Elliott and the National Football League Player Association (NFLPA) have filed for an appeal of the ban for violating the league's personal conduct policy for an alleged incident of domestic violence, so it's not settled yet.
Unfortunately, I see a bigger problem for the NFL and this could be just the tip of the iceberg.
Cowboys' 2015 second round selection, defensive end Randy Gregory, failed numerous drug tests. At the time I questioned if Gregory suffered from affluenza. Gregory is currently suspended for one year, but he is officially a current member of the Cowboys.
Before quarterback Dak Prescott joined the Cowboys, he was arrested and charged for speeding and a DUI. Which might send the message that driving under the influence can ruin your life, unless you can throw a football.
Violations of the NFL's personal conduct and drug policies aren't limited to the younger players. Former linebacker Rolando McClain was going into his sixth NFL season when he was suspended indefinitely for violating the drug policy.
Former defensive end Greg Hardy was initially suspended 10 games, later reduced to four, for his personal conduct violation. Hardy's was first suspended with the Carolina Panthers during his 5th NFL season.
For the league, nearly every violation of a policy is settled with a fine and/or a suspension. When a franchise has more than three players suspended, the team is fined by the NFL. Nobody – team or player – enjoys losing money, but the problem for the NFL is the ineffectiveness of a fine or suspension.
McClain's first contract with the Oakland Raiders was estimated to be $40 million for 5 years with $23 million guaranteed. Ezekiel Elliott's rookie contract featured nearly $24 million for 4 years with $16 million guaranteed. To the blue collar members of Cowboy Nation, it's hard to imagine that NFL players are living check to check on extremely tight budgets.
I'm reminded of former wide receiver Randy Moss being asked if he paid a fine to the NFL. His reply was, "Ain't nothing but 10 grand. What's 10 grand to me?"  It's possible that Moss openly expressed the hidden thoughts that most players have regarding league fines.
If fines are ineffective, then the NFL is left with suspensions. The only thing suspensions hurt are our fantasy football teams. Only two teams play in February and rookies report to camp in July, that's a six month break for most players.
Suspended players can practice and participate in training camps and preseason games which means they get paid. With the first four weeks off, that suspension simply gives a player an extended break in a sport where each snap risks a possible career ending injury.
There are always players with great character like former quarterback Tony Romo and tight end Jason Witten that have long careers while remaining scandal free. Some players mature into leadership roles like wide receiver Dez Bryant. Unfortunately, some players have taken the Charles Barkley approach and just feel that they aren't role models.
Next: Seven Dallas Cowboys that shined against the Rams
The NFL would likely prefer to steer these guys in the right direction. That steering wheel isn't turned by fines and suspensions anymore. To clean up the league's image, the NFL has to discover what can keep players in line when the punishment no longer matters.
#GoCowboys