Will the Dallas Cowboys regret not signing Adrian Peterson?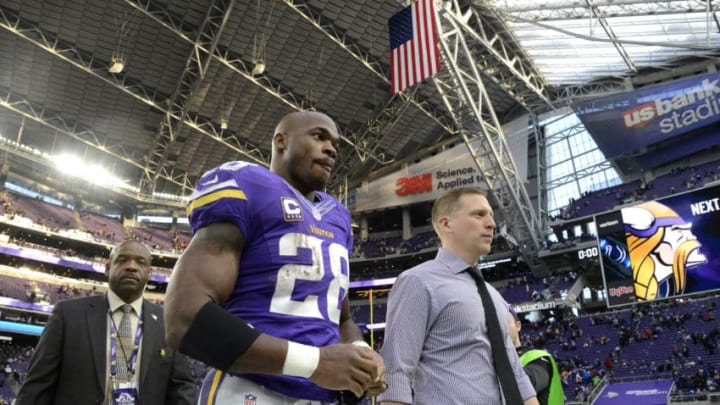 MINNEAPOLIS, MN - DECEMBER 18: Adrian Peterson /
If the Dallas Cowboys are without running back Ezekiel Elliott to start the season, will they regret not taking a flier on Adrian Peterson?
Dallas Cowboys second-year running back Ezekiel Elliott reportedly may be facing a "short" suspension to start the 2017-18 campaign, stemming from a domestic violence allegation dating back to last year. After a dominant rookie campaign, it could serve as a big blow to a Cowboys offense that relies on Elliott being the focal point of opposing defenses.
Although they do have a solid pair of veterans in Darren McFadden and Alfred Morris, it's fair to wonder if the Cowboys were better off signing another veteran back in the offseason. And by veteran running back I'm talking about Adrian Peterson. You've heard of him, right?
Peterson wound up signing essentially a one and one deal with the New Orleans Saints that pays him just $3.5 million in 2017. His 2017 salary is fully guaranteed, but the Saints are free to let him go without repercussion if he doesn't perform, as none of his $3.5 million salary for 2018 is guaranteed.
While there are certainly question marks regarding A.P.'s production at age 32, his role on the Cowboys would be limited. He'd spell Elliott at times to keep the young workhorse fresh, and he would certainly be an above-average fill-in if indeed the second year man faces a suspension.
The Cowboys also face question marks on the offensive line, as they will have two new starters this season. The line should certainly still be a strength, but with a guy like Peterson who's run behind plenty of crappy lines in his career, he would be the perfect power-back to hold down the fort until Elliott returns.
The Cowboys also play the Giants and Broncos in Weeks 1 and 2, the two weeks Elliott would seemingly be suspended for. Both teams have stout run defenses, and the Cowboys could be in for a rough-go to start the season. It's not clear whether Peterson would be the difference in the Cowboys going 0-2 and 2-0, but he would certainly help their chances.
Next: Dallas Cowboys Hall of Fame game debut is must-see TV
Regardless, the Cowboys shouldn't be in too much trouble if Elliott does in fact get suspended a couple of games. Dak Prescott should have more responsibility on offense, and the Cowboys have two former Pro Bowl running backs in the twilight of their respective careers. But if Peterson ends up having a bounce back campaign and the Cowboys' backups struggle, it's fair to wonder what could have been if AP came home to Texas.