Tony Romo Trade: Five Possible Player Targets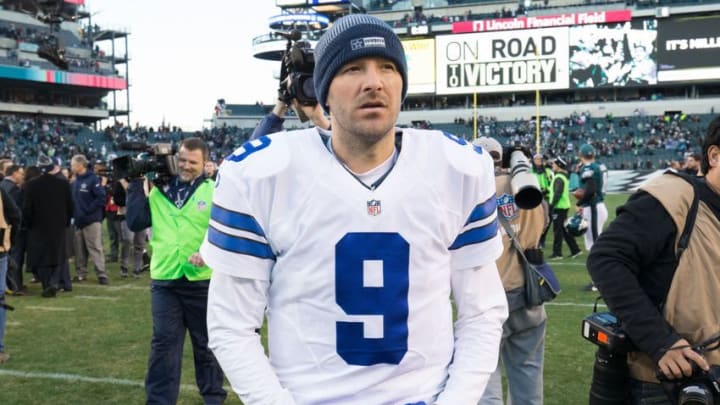 Jan 1, 2017; Philadelphia, PA, USA; Dallas Cowboys quarterback Tony Romo (9) walks off the field after a game against the Philadelphia Eagles at Lincoln Financial Field. The Philadelphia Eagles won 27-13. Mandatory Credit: Bill Streicher-USA TODAY Sports /
Here are five possible targets the Dallas Cowboys could look to get in exchange for trading veteran quarterback Tony Romo in the offseason.
Jan 1, 2017; Philadelphia, PA, USA; Dallas Cowboys quarterback Tony Romo (9) walks off the field after a game against the Philadelphia Eagles at Lincoln Financial Field. The Philadelphia Eagles won 27-13. Mandatory Credit: Bill Streicher-USA TODAY Sports /
In the NFL, trades are rare. Player for player trades are even more infrequent. For example, in 2016, there were a total of eight trades made last offseason between January 1st through April 20th. Only one of them involved a player for player (and a draft pick) swap. The Dallas Cowboys did not commit a single trade in 2016, not even during the draft (although they attempted to).
Famously, the Cowboys were part of the largest trade in NFL history back in October of 1989. Otherwise known as the Great Train Robbery, Dallas traded star running back Herschel Walker and four draft picks to the Minnesota Vikings for five players and eight draft selections. That trade formed the foundation of the Cowboys dynasty in the 1990's, in which they won three Super Bowls in four years.
The Cowboys will almost certainly be attempting another major trade this upcoming offseason. A preseason injury to veteran quarterback Tony Romo opened the door for first-year back-up Dak Prescott. And the rookie never gave the job back.
Prescott finished the season throwing for 3,667 yards, 23 touchdowns and four interceptions. The mobile quarterback also ran for 282 yards and six scores. Prescott's season ending QBR was 81.7, the third highest in the NFL. Only behind the Atlanta Falcons' Matt Ryan and the New England Patriots' Tom Brady.
With Prescott secured as the Cowboys quarterback of the future, Romo has been regulated to the bench. Now healthy, the 36-year old former starter made his debut last Sunday in Dallas' final game of the regular season. Romo played a single offensive series and completed three of his four passes for 29 yards and a touchdown in the defeat to the Philadelphia Eagles.
Following Romo's short, but successful debut, The Landry Hat's own Jimmy Long speculated on what the veteran's value might be worth in a possible trade now. I encourage you to read that article here: What is Tony Romo's trade value now?
As for this story, I'd like to focus on possible players the Cowboys could received in exchange for Tony Romo this offseason. In the following pages, I will list five targets based on their team's need at the quarterback position, and Dallas' needs in the upcoming season.