The Cowboys must draft Glenn Gronkowski to boost offense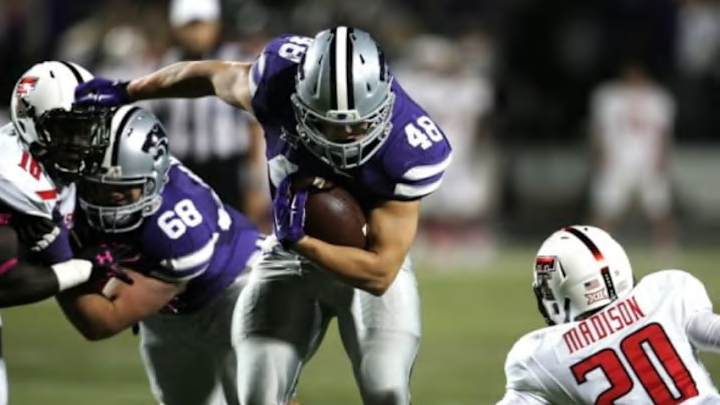 Oct 4, 2014; Manhattan, KS, USA; Kansas State Wildcats fullback Glenn Gronkowski (48) tries to run past Texas Tech Red Raiders defensive back Tevin Madison (20) during the Wildcats /
The Dallas Cowboys must look at fullback Glenn Gronkowski in the NFL Draft to complete the running attack in 2016.
Could the Dallas Cowboys be warping into another 90's timeline by going retro from Daryl "Moose" Johnston to Glenn "Goose" Gronkowski?
It could happen at the fullback spot. And it probably should.
Let's discuss.
My father and I couldn't recall the 1992 NFC Championship game. He slipped in a DVD of the Dallas Cowboys from NFL Films, The Complete History of America's Team (1960 to 2003). Growing familiar with the DVD cover, I recalled buying this DVD and sending it to my dad as a gift.
I reassured him that he didn't need to watch it again, and I was happy to throw in a Christmas movie, cause after all, it was the Holidays.
His response: I haven't opened it, I was waiting for you.
Ah.
The second DVD in the set is a broadcast of the 1992 Championship Game, the Cowboys against the San Francisco 49ers, which in many football minds was the real Super Bowl.
Let me be honest: I couldn't remember the details. Sure, the Cowboys claimed victory, which sparked a run to three Super Bowl trophies in four years.
But for the life of me I couldn't remember all that went into this playoff game. My dad couldn't either. He promptly seated my older sister next to the 19-inch television screen in our kitchen, forcing her to relive the magic with us.
As the play-by-play unfolded, he checked to see if my sister absorbed the key plays as if there was a pop quiz later.
As we relived some of the most important moments in Cowboys' history, we were surprised how many times our lips said, "Moose."
Moose, as you know (or should know), is no other than Dallas fullback great Darryl Johnston, who served the Cowboys from 1989 to 1999.
The second rounder helped Dallas win 30-20 with big plays on January 17th, 1993. In addition to a key fumble recovery on special teams, Johnston totaled seven yards rushing on two attempts, including a key rushing touchdown. He also contributed in the passing game with four receptions for 26 yards.
Moose opened up the running game for legendary teammate (as he did his entire career) and running back Emmitt Smith, who finished the game with 114 rushing yards on 24 rushes, with one rushing score.
While the NFL has valued the passing attack as of late, I've always held that the way back to the top was through the running game. It worked in 2014. Thanks to a revamped offensive line, the Cowboys pushed their record to 12-4 and went 1-1 in the playoffs, while the lead back in DeMarco Murray was pushing through history books.
The Boys have a chance to complete the running attack next year, which will consist of four first-round talents starting on the front line in 2016, by selecting the next Moose at the fullback position.
Enter Glenn Gronkowski out of Kansas State.
Like Johnston, Gronk wore the 48 jersey number.
As a Wildcat, the youngest of the five Gronkowski brothers rushed for 45 yards on 11 carries and had one rushing score in 2015. The six-foot three, 234 pounder caught 15 balls for 369 yards and five touchdowns over his college career.
The 45-23 loss at the Liberty Bowl against Arkansas will turn out to be his last college game. Gronk has NFL plans. Glenn, who owns the nickname "Goose," told Sports Illustrated that he will forgo his final year of college to declare for the NFL Draft.
Gronkowski is a football guy from a football family whose blood runs strong in the NFL. This particular Gronk is a Bill Parcells type guy. He is versatile, playing a ton of special teams (enter the Moose and Goose comparison chat here).
He served in tight end packages for Kansas State, mirroring his older brother Rob Gronkowski with the New England Patriots.
As the fullback for Kansas State, Goose was the power, opening holes for the running attack in a run first system.
Per Pete Thamel out of Sports Illustrated, Glenn is happy to be on the field wearing different hats.
""I think I can be used at a lot of different positions," he said. "I can play wherever a coach wants me to play and help out the best I can.""
With Tony Romo seeing 36 birthday candles this April, the Cowboys will look to extend his battery life by running more and offering more protection in the backfield. Gronk will open up the running lanes with his power blocking, and will wear a variety of hats in Dallas, which will save roster spots because of his versatility.
Gronk is expected to be a third day NFL Draft pick.
So, can you see yourself at AT&T Stadium screaming, Goooooose?
Next: Cowboys 2016 Full 7 Round NFL Mock Draft: Jacked for Jack
But what do you think? Feel free to keep the conversation going at the bottom of this article in our comment section. Just please remember to be respectful in your responses and towards others. Thanks!