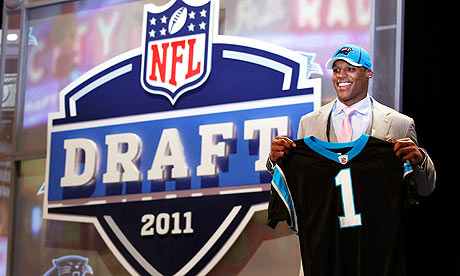 Day 1 of the 2011 NFL Draft has come to a conclusion and like always, there were a handful of genius picks while some teams failed to capitalize on their chances. Who are some of the drafts biggest winners and losers? Take a look after the jump!

Winners
New Orleans Saints: Cameron Jordan, DE, Cal & Mark Ingram, RB, Alabama
The New Orleans Saints made out like bandits in the first round of the draft. Not only did they land a top ten talent in Cameron Jordan, but they made a big trade to get back into round one and select Mark Ingram. Jordan can immediately fill in for the Saints at defensive end and not only bring an incredible pass rush. He will also help improve the teams rush defense and can move to defensive tackle on passing downs. Ingram, if he is what everyone thinks he can be, will be a franchise running back for the team. Paired with Reggie Bush, the Saints have a deadly backfield featuring two former Heisman Trophy winners.
Detroit Lions: Nick Fairley, DT, Auburn
Nick Fairley slid a lot farther than he would have like to, but it all worked out for him as he gets paired with Ndamukong Suh. Suh and Fairley will be an incredible force along the Lions defensive line and make it much harder for opposing offenses to run the ball against them. Fairley also brings even more pass rushing ability to the position and will cause a headache for his opponents. Who are teams going to double team?
New York Giants: Prince Amukamara, CB, Nebraska
They were the same old New York Giants. They stayed true to form and took the best player on the board. With the selection of Amukamara who was a top ten talent, the Giants instantly have one of the deepest pools of talent at the cornerback position in the NFL.
Indianapolis Colts: Anthony Castonzo, OT, Boston College
Peyton Manning has to be very happy with this pick. The Colts picked up a smart, polished offensive lineman who brings a lot of versatility to his game. Castonzo can instantly be plugged in somewhere on the unit and be a solid starter from day one. Many thought Castonzo could have gone in the top 15, but luckily enough for the Colts and Castonzo he slid, which resulted in a perfect marriage.
Chicago Bears: Gabe Carimi, OT, Wisconsin
There were talks from the beginning of draft season as to which player the Chicago Bears would like to draft. A name that was often linked to Chicago was Gabe Carimi and last night "Da Bears" got their wish. A perfect scenario unfolded in front of Chicago which allowed Carimi to slide down the first round and right into the Bears lap.
Losers
Minnesota Vikings: Christian Ponder, QB, Florida State
Can you say, "reach?" At pick 12, the Vikings were trying desperately to trade down but when no one would answer they call they went ahead and pulled the trigger. Ponder was viewed by many as a late-first/second round pick, but Minnesota must have thought he was their guy. If it all works out, the move is genius. However, at this minute it looks like a mistake when there were players like Nick Fairley and Robert Quinn on the board.
Dallas Cowboys: Tyron Smith, OT, USC
The Cowboys needed offensive line help and they got it, but they went with a risky pick when they had sure options. Instead of taking a player you know will be able to help you at the next level like Anthony Castonzo, Jerry Jones went with the flashiest pick at offensive line and picked an athletic kid with upside. Castonzo, Prince Amukamara or JJ Watt would have been much safer picks, but Dallas chose to go with a risk, so we'll see how it plays out.
Seattle Seahawks: James Carpenter, OL, Arkansas
Like the Vikings, Seattle took a major reach in the first. With a Gabe Carimi and Derek Sherrod still on the board, the Seahawks took a mid-second round talent in Carpenter to help out along the offensive line. While Carpenter has the ability to play guard or tackle, it would have been much safer to go with one of the drafts top offensive tackles.
Tennessee Titans: Jake Locker, QB, Washington
Blaine Gabbert was considered by many to be the top quarterback in this class, but he watched two project QB's in Cam Newton and Jake Locker go before him. It just doesn't seem like a smart strategy to draft a quarterback with such major accuracy concerns in the top ten. The team could have traded back and still got their guy, but they decided to just go ahead and pull the trigger.
Carolina Panthers: Cam Newton, QB, Auburn
Cam Newton should have never been the number one pick, however, teams seem to have a recent fascination in believing you have to take the top quarterback with the top pick. Newton isn't ready to mentally handle a NFL playbook and he will see himself struggling early and often, especially with no supporting cast in Carolina. The smart pick would have been for the Panthers to draft Patrick Peterson — the best player in the draft, who would have instantly improved both the defense and special teams unit.
Tags: 2011 NFL Draft NFL NFL Draft Nfl Draft Grades Winners And Losers