Cowboys rectify lone offseason gaffe with Brandin Cooks restructure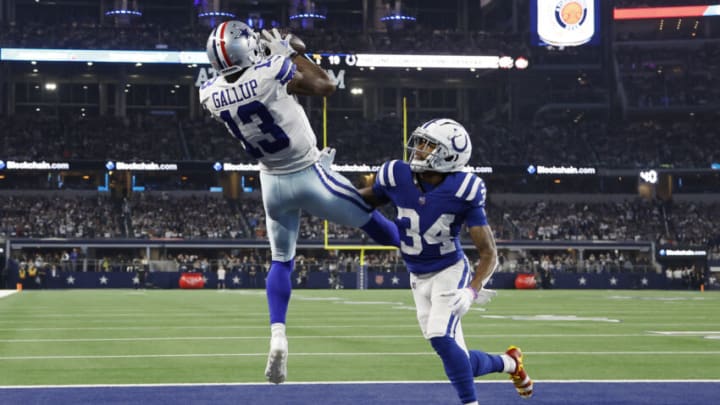 Dec 4, 2022; Arlington, Texas, USA; Dallas Cowboys wide receiver Michael Gallup (13) catches a touchdown pass against Indianapolis Colts cornerback Isaiah Rodgers (34) in the fourth quarter at AT&T Stadium. Mandatory Credit: Tim Heitman-USA TODAY Sports /
The Dallas Cowboys have hardly put a foot wrong this offseason. Rather than rest on their laurels and let the free agent market come to them, the front office has shown more aggression than fans have seen in over a decade.
Trading for Stephon Gilmore, while a shocker, aligns with moves Dallas has made in recent history. Just last season, they parted with a 2023 sixth-round pick to shore up their run defense in the form of Raiders DL  Johnathan Hankins.
The Brandin Cooks trade, on the other hand, flied in the face of everything the franchise has preached in the past.
When you couple those deals with re-signing multiple starters, including Donovan Wilson, and depth pieces, and signing outsiders Ronald Jones and Chuma Edoga this week, it's hard not to be thrilled with what Dallas has done.
To top it all off, they renegotiated Cooks' contract. This gives the front office more cap room to work with, and all but guarantees that the speedy wideout will play out the rest of his contract (through 2024) in North Texas.
An underrated part of that maneuver, though, is the fact it atones for the questionable decision to restructure Michael Gallup.
Cowboys restructuring Brandin Cooks helps rectify mistake of doubling down on Michael Gallup.
This is nothing against Gallup, clearly. In a perfect world, Gallup bounces back from his injury-slowed 2022 and performs like the WR2/3 we've seen pre-ACL. There's certainly a world in which that happens. History has shown that players perform better the further removed they are from major surgery.
What a surprise, right?
But for the front office to double down on their belief that Gallup will rebound after what we saw (or didn't see) last campaign is a huge gamble. Restructuring Cooks, however, gives Dallas a potential out of Gallup's deal after 2023.
Here's what Jason Fitzgerald of Over The Cap said of the move:
"With a $10 million per year salary, Cooks' contract would now be on par with Michael Gallup ($11.5 million a year) and give Dallas an option, depending on how things go this year, to move on from Gallup after the year. The lower salary and cap figures also makes things work better if the team keeps all three receivers in 2024 when CeeDee Lamb will either be playing on the option year or on a contract extension."
Initially, restructuring Gallup made it difficult to move on in 2024.
By renegotiating Cooks' deal, the Cowboys can comfortably part ways with Gallup next year. According to Over The Cap, the team can save $9.5 million by designating him as a post-June 1 cut while incurring $4.35 million in dead money. They will save the same and inherit the same dead money if they traded him.
We obviously are rooting for a Gallup bounce-back. Some have reservations about whether that will happen. The front office believes his 2022 struggles were more about failing to clear a mental hurdle than a physical one.
We hope they're right, but restructuring Cooks gives them a potential get-out-of-jail free card if Gallup's struggles persist.
That's how it's done.