Surprise Michael Gallup injury update is frightening for Cowboys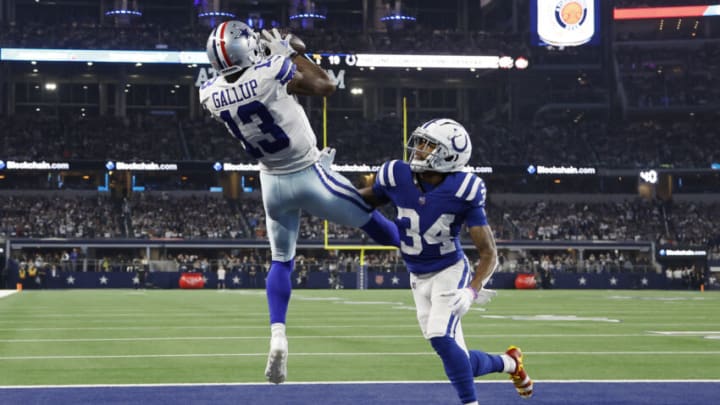 Dec 4, 2022; Arlington, Texas, USA; Dallas Cowboys wide receiver Michael Gallup (13) catches a touchdown pass against Indianapolis Colts cornerback Isaiah Rodgers (34) in the fourth quarter at AT&T Stadium. Mandatory Credit: Tim Heitman-USA TODAY Sports /
It can't be overstated that the Dallas Cowboys need to add playmakers at the wide receiver position this offseason. CeeDee Lamb cemented himself as one of the game's elite players at the position this season, but the rest of the receiver room — Michael Gallup being the poster child, in this case — didn't come close to meeting expectations.
Initially, Cowboys fans exercised patience with Gallup. He missed the first four games completing his ACL rehab, and never really got going when he returned.
When the dust settled on 2022, Gallup finished near the bottom of NFL receivers in terms of creating separation and yards after the catch. The general consensus was that he needed this kind of season before returning to form after major knee surgery.
Little did we know, though, that Gallup wasn't fully healthy.
Late Tuesday, Michael Gehlken of the Dallas Morning News reported Gallup underwent an arthroscopic procedure on his right knee and ankle (!). The goal is to get Gallup back to full-strength for next season.
Michael Gallup injury update: Cowboys receiver undergoes surprise procedure on right knee and ankle.
It's important to note that arthroscopic surgeries aren't overly serious. They're usually orchestrated to clean up something minor. With that, Gallup is expected to be a full participant at the onset of the Cowboys' offseason program in April.
Still, though, the fact Gallup even needs the procedure is alarming. It's still less than a year since he underwent ACL surgery. That's two knee (and one ankle) operations within an 11-month span. If that doesn't muddle his future outlook, then nothing does.
Several months after signing a five-year, $62.5 million contract, that includes a $10 million signing bonus and $23 million guaranteed at the time of signing. Gallup is entering a make-or-break season in 2023 as far as his Cowboys future.
There have been calls among prominent Cowboys personalities to dump his contract this offseason, and it's admittedly difficult to argue against it. His contract terms make that impossible, (Dallas would be on the books for a chunk of dead cap), but that'll change next offseason.
If Gallup doesn't rediscover his pre-2021 form next season, it'll likely be his last with the Cowboys.
If there's a silver lining to this news, it's that the procedure won't be performed on Gallup's surgically-repaired knee. That was to his left knee.
While realizing Gallup wasn't fully healthy paints a (slightly) different picture about his 2022, there's no excusing how invisible he was for most of the schedule. Let's hope this procedure does its job, and Gallup is back to his normal self by the summer.
The Cowboys and Dak Prescott are going to need him in 2023.