Fans need these Dallas Cowboys shoes by Nike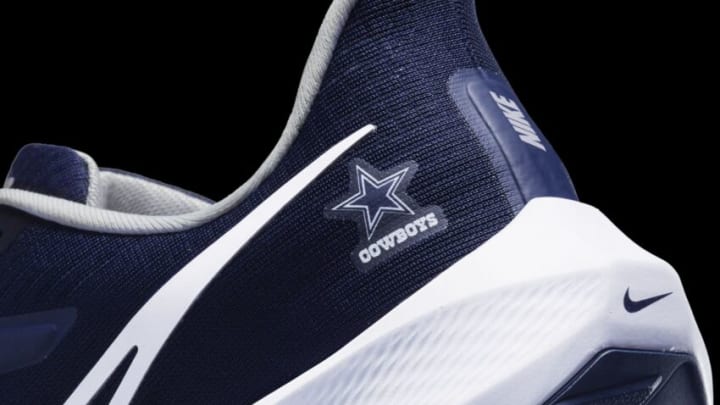 Fanatics /
The look of the NFL season just dropped. Nike's new Dallas Cowboys shoes are perfect for hitting the gym – or the stadium – and anything in between.
For fans of the Dallas Cowboys, there's certainly no shortage of great looking Nike gear. You've got jerseys, hats, t-shirts, hoodies.
And don't get me wrong – all those things are great. Essential for fans, even.
But for my money, the coolest gear drops every year towards the start of the NFL regular season. The new Nike Air Zoom Pegasus running shoes.
This year is no different, with the release of the Nike Air Zoom Pegasus 39 Dallas Cowboys shoes.
And they're a touchdown.
They're incredibly comfortable and durable, plus stylish and sleek. (Please note I did not own a colorway, nor was a pair provided by Nike, I did however utterly destroy my Air Zoom 37's from wearing them everyday for 2+ years).
I would describe these as multi-use sneakers. They're designed for hitting the gym or running – and they're perfect for that. But they're also casual enough to wear during your everyday routine.
This year, the Pegasus 39 is in full on team color with a white outsole. So each pair is vibrant – and everyone will know who you're rooting for when they see you coming.
Fanatics /
Fanatics /
Fanatics /
This year, some things have changed – but the end results are the same: an amazingly comfy shoe.
The Air Zoom Pegasus 39's feature two Nike air bags, providing the wearer with optimal balance and comfort. The upper mesh is breathable to keep your feet cooler and in terms of a training shoe the Pegasus 38 is a very solid catch-all, weighing in at less than one pound (except for sizes 15+).
It will endure beyond your workout, too, providing enough flashy style to be your everyday footwear. The only gripe – and it is a small one – is that these can get wet quick if it's really raining hard or you're running through the elements.
These new Nikes will not only be the perfect addition to your collection, but the perfect look for the rest of the year – and well into next. They're definitely going to attract attention.
Please note: The shoes are listed as unisex sizes. You can just use the chart below to make sure you're getting the perfect size.
Nike /
Don't wait. These sell fast every year. Head on over to Fanatics and get your order in today. 
This post contains affiliate links, where we may receive a percentage of any sale made from the links on this page. Prices and availability are accurate as of the time of publication.