7 takeaways from the Cowboys thrilling win over the Giants in Week 3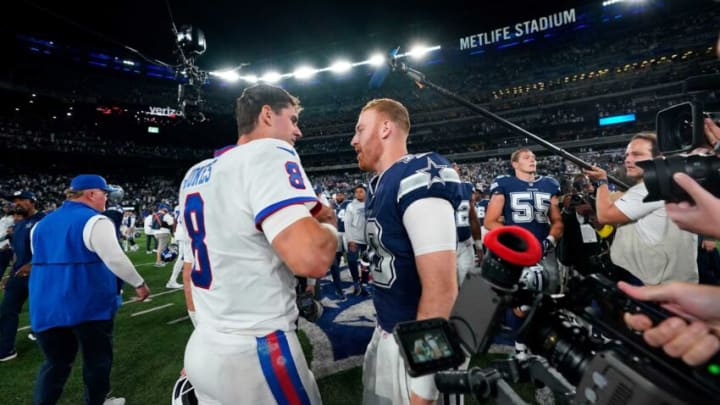 New York Giants quarterback Daniel Jones (8) and Dallas Cowboys quarterback Cooper Rush (10) shake hands after the game. The Giants fall to the Cowboys, 23-16, at MetLife Stadium on Monday, Sept. 26, 2022.Nfl Ny Giants Vs Dallas Cowboys Cowboys At Giants /
The Dallas Cowboys went into Week 2 with much to be anxious about. Dak Prescott had gone down due to a thumb injury, several other players sustained injuries that would keep them out multiple weeks, and Michael Gallup was still not ready to return from an injury of his own. Not to mention, the team did not look good at all in Week 1.
Oh, how the turn tables.
We are now awaiting Week 4 and the 'Boys are 2-1. After a last-second field goal gave America's Team the win in Week 2 against the Bengals, the Cowboys traveled to MetLife Stadium and took down the previously undefeated and favored New York Giants, 23-16.
Now, let's go through and see what this team needs to take away from the division matchup.
7 takeaways from the Cowboys' 23-16 upset win over the New York Giants
Sep 26, 2022; East Rutherford, NJ, USA; Dallas Cowboys head coach Mike McCarthy looks on during the first quarter against the New York Giants at MetLife Stadium. Mandatory Credit: Robert Deutsch-USA TODAY Sports /
1. The media was wrong to count the Cowboys out
This is the one I'm starting with because it's so "feel good" for Cowboys fans. Right when everyone and their mother counted the Cowboys out, they bounce back with two huge wins and quiet the critics.
Almost every major media outlet had the Cowboys among the bottom-third teams after their Week 1 loss to the Buccaneers. ESPN had the Cowboys 26th, Bleacher Report had the team 24th, and NFL.com had the 'Boys 27th. Following their second-straight win, it seems some people are ready to switch their thinking.
The team wasn't perfect in their wins, and both were very close contests. However, you can't ask for much more from a team who lost their starting quarterback, left tackle, WR2, and was forced to start a rookie at left tackle. Heading into Week 4 at 2-1, where Prescott could potentially make his return, is the dream scenario for a team who has been through so much this season already.