Sean Payton source reveals he'd be interested in Cowboys return, two other NFL jobs?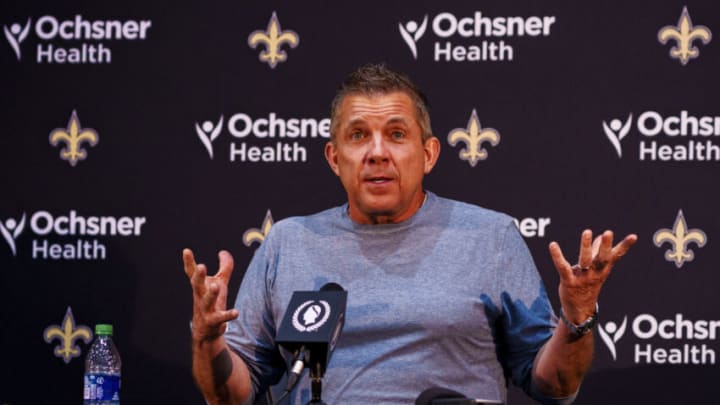 Jan 25, 2022; Metairie, LA, USA; New Orleans Saints head coach Sean Payton speaks during a press conference at Ochsner Sports Performance Center. Mandatory Credit: Andrew Wevers-USA TODAY Sports /
It's July, and even after committing to broadcasting, there's more talk about former New Orleans Saints head coach Sean Payton returning to the NFL in 2023. The former Dallas Cowboys assistant head coach and quarterbacks coach has been causing a stir amongst the Cowboys community ever since he announced his unexpected retirement from coaching.
The second he retired, many assumed Jerry Jones, a long-time fan of his, would immediately swoop him up to replace Mike McCarthy after McCarthy's game management skills and playoff loss fiasco put him on the hot seat. But Payton insisted he wanted to give broadcasting a solid try. In May, it was reported that the coach would be joining FOX as an analyst and filling in for Jimmy Johnson on his off weeks for FOX NFL Sunday.
Although Jones tried to squash Payton rumors last month, a new report from Barry Jackson of the Miami Herald has Payton and the Cowboys back in the news. Even though Payton has signed his contract with FOX, it is widely believed that he will be back on the sidelines in 2023.
Jackson spoke to a source close to Payton who revealed that three teams, including the Cowboys, "interest" the soon-to-be broadcaster. The unnamed source also said that he fully believes Payton will return to coaching at some point in the future despite his desire to take a break in 2022.
One of those teams is obviously the Miami Dolphins. Last month, reports revealed that Miami allegedly offered the coach five years and $100 million for the head coaching gig. Team sources have since declined the report saying the team did not want to sustain any tampering charges for speaking to Payton without the Saints' permission.
The source said Payton was flattered by the Dolphins' interest but wanted to take a break from coaching. So, what will get him back on the sidelines? The source said Payton's three requirements for his next team are warm weather, a good roster, and control over personnel decisions. Maybe that's why he's interested in these three teams. Here's the exact quote from the Miami Herald:
"The source – emphasizing that Payton would never lobby for a filled job – said Miami is among the teams that would interest him, and he knows that first-hand.But the associate said he could also see Dallas and the Chargers among other teams that would interest Payton should their jobs become open."
A source close to Sean Payton said the former Saints coach has an "interest" in coaching the Cowboys, Dolphins, and Chargers
The source said Payton would never "lobby for a filled job," but he does know that none of the jobs are "open," right? Although it is fair to assume that if Dallas has another rough playoff exit, the job will be vacant anyway. Plus, if the Dolphins and Chargers knew Payton was interested, they would likely be willing to move on as well.
The former Saints coach obviously has a strong connection to the Cowboys and this is likely a contract the Joneses would be willing to pay big money for. This also isn't the first time the front office has tried to get Payton back to Dallas. According to Pro Football Talk's Mike Florio, the Saints and Cowboys had a deal in place to send the coach over to Dallas back in 2019 before plans fell through.
Keep in mind that even if Payton and the Cowboys want to work something out next year, the former coach is still under contract with New Orleans. Any team that wants to hire him before 2024 would need to work out a trade with the Saints.
Regardless, expect to hear Payton's name a lot this season if the Cowboys, Dolphins, or Chargers struggle at all this year.