Michael Gallup recovery timeline update less hopeful than initially expected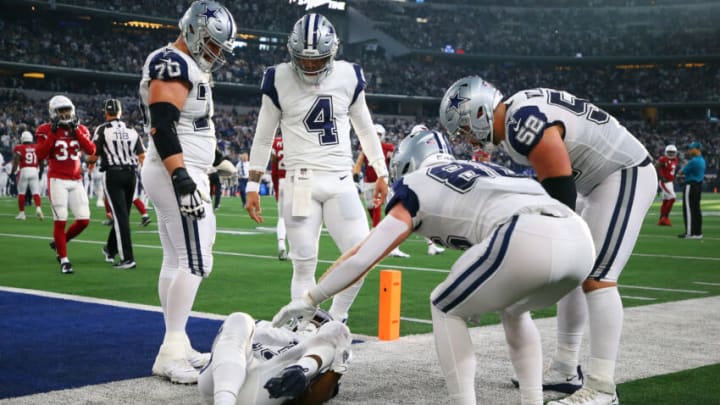 ARLINGTON, TEXAS - JANUARY 02: Dak Prescott #4 and other member of the Dallas Cowboys offense check on Michael Gallup #13 who was injured after catching a pass for a touchdown during the second quarter against the Arizona Cardinals at AT&T Stadium on January 02, 2022 in Arlington, Texas. (Photo by Richard Rodriguez/Getty Images) /
On Thursday, Dallas Cowboys wide receiver Michael Gallup spoke to the press for the first time since signing his five-year, $62.5 million contract. The Cowboy mentioned that he always wanted to come back to Dallas and feels blessed to have the opportunity to do so. He also added that now-former teammate Amari Cooper was the first to reach out to him when the news of his contract broke.
Most of the conversation was positive, but one portion was a bit concerning. Although previous reports mentioned that Gallup should be 100% by August, the receiver pretty much refused to comment on his timeline. If those initial reports were true, not only would Gallup be ready for opening week, but he would also get reps in the preseason. Now, the story seems to have changed.
The Colorado State product said that he hopes to be able to start Week 1. That's a lot different from 100% by August. Gallup mentioned that he is doing everything in his power to get himself rehabbed and healthy. According to USA Today's Jori Epstein, for the month leading up to Gallup's surgery, the receiver went through a "pre"habilitation regimen to strengthen his hamstring, quad, and calf muscles. This routine was set to help him with the anticipated strength and weight loss after surgery.
Since the surgery in early February, Gallup has continued those drills, exercised on a stationary bike, exercised in the pool, focused on upper body work, and added in one-legged drills. The receiver admitted that his progress feels slower than he'd like, but is hoping to get to jogging soon. While there is no doubt that Gallup is working hard, his initially positive recovery timeline seems to have changed. This is a big deal given that the Cowboys likely factored his progress into the contract extension he received.
Cowboys WR Michael Gallup is unsure if he will start in Week 1 but is hoping to be a more versatile receiver in 2022
The soon-to-be fifth-year Cowboy isn't the only one hoping he can get back to his old ways as soon as possible. Gallup revealed that quarterback Dak Prescott came up to him in the training room after the extension news broke and gave him a big hug. What did Prescott tell his receiver?
""The first words he told me were, 'Get that thing (knee) right so we can get to work.' I ain't going to lie to you, Dak knew I was going to be here for the long haul since I got here. That man's had faith in me since Day 1. "He wanted me to be here and I'm so glad he did.""
Once the 26-year-old is back to full strength, he plans to expand his versatility. The receiver hopes to work more on taking snaps from the slot. He recognized that with Cooper gone, he will have to be available to fill in wherever he is put in a play. At the NFL Combine, head coach Mike McCarthy also mentioned that increasing Gallup's versatility was a big goal.
Gallup recognizes that he has big shoes to fill. He knows he needs to improve and show he is worth the contract he received.
""When I get back out there, I got to take it up a notch. They've put all their faith in me, so I need to put all my work into this team. I've got to be a leader… let them know they can count on me.""