Watch Cowboys star Trevon Diggs and son Aaiden break down game film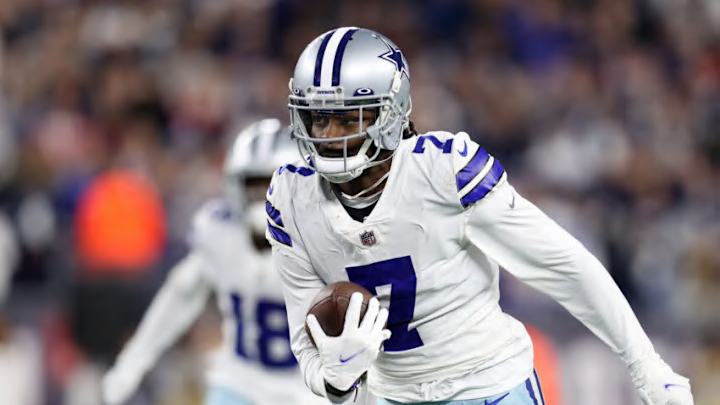 FOXBOROUGH, MASSACHUSETTS - OCTOBER 17: Trevon Diggs #7 of the Dallas Cowboys intercepts a pass and returns it for a 42-yard touchdown in the fourth quarter against the New England Patriots at Gillette Stadium on October 17, 2021 in Foxborough, Massachusetts. (Photo by Maddie Meyer/Getty Images) /
There is no doubt that Dallas Cowboys cornerback Trevon Diggs is making a name for himself in the NFL. But so is his son, Aaiden. Aaiden quickly became a fan favorite during HBO's Hard Knocks for his silliness and wit.
This past week, Aaiden got his head in the game and sat down with his dad to break down some game film.
During the adorable video, Aaiden proclaims that his dad is "the best cornerback in the world," shows off his touchdown dance ideas, plays "Name That Quarterback," and has an adorably difficult time pronouncing Baltimore Ravens quarterback Lamar Jackson's name.
It's hard to tell if Aaiden's personality or the impressive performance of his father has won the hearts of Cowboys fans more. We will let you be the judge as you watch this wholesome video from NFL Rush.
Cowboys' Trevon Diggs could break the record for most interceptions in an NFL season.
All cuteness aside, Aaiden's dad is accomplishing big things this year. By securing his ninth interception in Week 13 vs. the New Orleans Saints, Trevon Diggs already has the third-most interceptions in a single season in Cowboys history behind Mel Renfro (10 in 1969) and Everson Walls (11 in 1981).
So, what is the all-time interception record? It's actually one of the oldest records in the league with 14 interceptions set by Dick "Night Train" Lane in 1952.
You might be saying that Diggs has an advantage because he is playing in a 17-game season. However, in 1952, 7.4 percent of passes thrown were intercepted. It's not that easy in 2021. Only 2.4 percent of all passes thrown in the league this year have been intercepted.
Experts say Diggs is on pace to have 13 interceptions this season, which would land him in second place alongside Dan Sandifer (Washington, 1948), Orban "Spec" Sanders (New York, 1950), and Lester Hayes (Oakland, 1980). If he can at least pass Walls' mark of 11, that means he's broken the all-time NFL rookie record — and kept it in the Cowboys family.
The second-year cornerback is on quite a tear this year, even amassing two touchdowns on his nine picks (much to Aaiden's joy).
Diggs has five regular-season games left to rack up the interceptions. Three of his remaining games are against Daniel Jones of the New York Giants and Taylor Heinicke of the Washington Football Team. Jones has seven interceptions so far this year and Heinicke has 11. The odds may be in Diggs' favor.
Hopefully, Aaiden and his dad will be doing more touchdown and interception celebration dances as the season continues. We are sure Aaiden would like to see "[his] boy, Super Daddy" make history this year.