Dallas Cowboys vs Los Angeles Chargers: Know thy enemy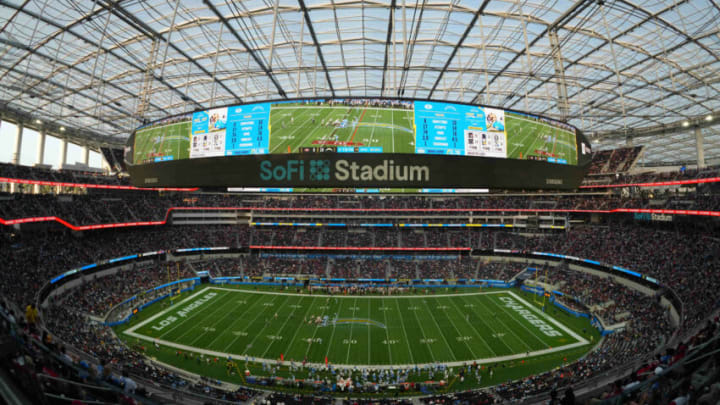 Dallas Cowboys (Mandatory Credit: Kirby Lee-USA TODAY Sports) /
Welcome to Week 2 of the Dallas Cowboys 2021 season. Last week, this team gave the World Champion Tampa Bay Buccaneers a strong challenge. In the end, this team fell short for a myriad of reasons. While there is nothing tangible from the "moral victory," there were a lot of things that could be positive takeaways from the start of the season.
This week leading up to game two, unfortunately, has been anything but positive. The day after the Bucs game, the Cowboys learned that right tackle La'el Collins will be suspended for five games due to a violation of the league's substance abuse policy.
Anyone with memories of 2020 knows how important having both starters at tackle is to this team. Not only does this suspension threaten the ability of this offense to succeed, but it also will extend the lack of continuity of having all five supposed starters along the line to at least 26 straight games.
The Dallas Cowboys will have their hands full against the Los Angeles Chargers
If only that was the worst of the news, though. After this bomb was dropped, the Cowboys learned that they will be without receiver Michael Gallup for at least three weeks due to a calf strain. But wait, there's more. Defensive end Randy Gregory was the newest Cowboy to land on the COVID reserve list. As of this writing, he still has not cleared protocols and likely will miss this game.
As if all that wasn't enough, the worst news came Wednesday when fellow starting defensive end DeMarcus Lawrence broke his foot in practice. With Lawrence missing the next eight games, the Cowboys will be without their best defensive player AND the biggest threat to opposing quarterbacks.
So, here are the Los Angeles Chargers. Fresh off a road victory against the Cowboys' divisional foe Washington, the Chargers get their first home game of 2021. What better situation could they have than a heavily limited Dallas team heading back on the road again?  Let's get to know thy enemy a little better as we break down the matchup between Dallas and Los Angeles.
Facing the Chargers was already going to be a tough proposition. Doing so with a severe lack of a pass rush could not be less ideal. The Chargers have one of the best young quarterbacks in the NFL in Justin Herbert. Last year's Pepsi Next Rookie of the Year and AP Offensive Rookie of the Year, Herbert should be the focal point of any defense.
Herbert has nine 300+ yard games in his first sixteen. He has four games with three or more touchdown passes and no interceptions. While his immediate personal success did not initially translate into wins for the Chargers, they have won their last five games with Herbert under center.
Against Washington, the Chargers dominated the time of possession, thanks in large part to Herbert's control of the offense. Los Angeles was a ridiculous 14 for 19 on third down leading to them having the ball for over 36 minutes. If the Cowboys want to have any chance Sunday, they need to get the Chargers off the field much more often than just 26% of the time.
Last week, Cowboys quarterback Dak Prescott faced off against the oldest quarterback in the league and possibly the most decorated in NFL history. All Prescott did was complete 42 passes for over 400 yards and three touchdowns. On Sunday, he goes head-to-head with one of the league's youngest signal-callers.
The Cowboys might not need another day requiring Dak to throw 58 times but they could certainly use replication of the other numbers. Even with all of the injuries on defense, there still is a little hope of an upset thanks to the presence of Prescott.
While Dallas did not post the absurd third-down numbers that the Chargers did last week, they did convert 9 of 17 opportunities and almost matched the time of possession numbers, controlling the ball for almost thirty-four and a half minutes. This will be crucial Sunday afternoon as the best way to protect this defense will be to have Herbert wearing a ball cap in place of a helmet.
Of course, the Chargers are not a one-man show. All-purpose running back Austin Ekeler poses a dual-threat offensively in both the rushing attack and passing game. Newly acquired tight end Jared Cook forms the three-man pass-catching troika with receivers Keenan Allen and Mike Williams. Defensively, star safety Derwin James is back and healthy, patrolling the whole field wreaking havoc on opposing offenses.
Still, their defense is far behind their offense. Including all of 2020 and last week, Los Angeles has allowed over 100 yards rushing in 12 games. They have allowed 300 or more yards passing in nine games.
If the Cowboys cannot keep the Chargers' offense off the field, they may be able to win in a massive shootout. Along with Prescott, Dallas still has a potent rushing attack with Ezekiel Elliott in the backfield. Even without Gallup, Amari Cooper and CeeDee Lamb are still here. The Cowboys have plenty of firepower, proving last week they can go toe-to-toe with any team, anywhere.
When predicting the season, game by game, I had Dallas winning this game 27-21. With all of the talent missing for this game, it's hard to see the Cowboys holding Los Angeles to just 21 points. Can Dallas still win? They certainly can, but I feel like a forty-burger, will be necessary. Ultimately, I think that, once again, the Cowboys will come just short, losing 44-38 and needing to figure out a way out of an 0-2 hole.