Camping with the Dallas Cowboys: Storylines from Oxnard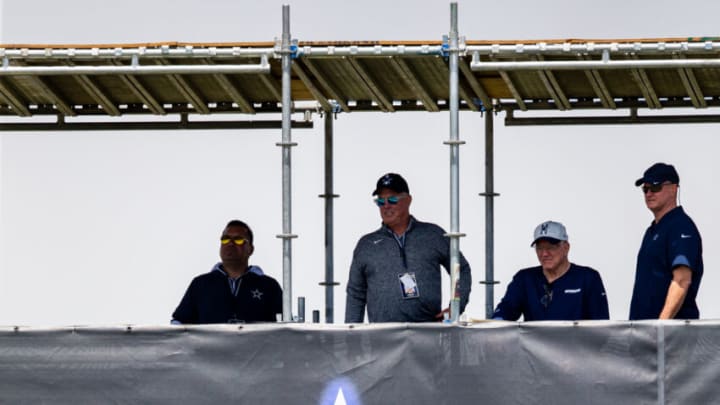 Dallas Cowboys owner Jerry Jones (Jason Parkhurst-USA TODAY Sports) /
Welcome back to football. Training camps all around the league are back as the 2021 season is almost upon us. For the Dallas Cowboys, the first two weeks in Oxnard, California has already had its fair share of intrigue.
If you missed anything from the first portion of Cowboys Camp, fear not, that's why you're here. Here is all you need to know to get caught up.
Of course, nothing with the Dallas Cowboys can truly get started without owner Jerry Jones giving all of us some sort of story. Sometimes his ramblings wreak of multiple Johnny Walker Blue's and sometimes they have actual value. This year, the latter was in full display.
If you want to watch the full story, you can click here and skip to the 54:00-minute mark but long story short, Jones told an amusing anecdotal version of replacing legendary coach Jimmy Johnson with Barry Switzer that involved Switzer's famous comedic timing and rare admission of error from Jones.
As for what matters most, camp has largely featured a defense that looks fresh and ready to show the world things are different from last year. Cornerbacks Trevon Diggs and Nashon Wright led off camp with a hot first practice each registering a pick and a pass break up.
Randy Gregory was the star of the next practice, highlighted by disrupting a well ran reverse, resulting in a ten-yard loss, earning a "sack" and shutting down another jet sweep before it ever got started.
Even with the hot start for the defense, the front office is not resting with what they have on the roster. With an open roster spot, the Dallas Cowboys filled it by signing safety Malik Hooker. A former 15th overall pick in the 2017 NFL Draft, Hooker should, at minimum, provide good depth at a position that has been notoriously problematic for this organization.
Maybe it was the signing of Hooker or maybe, finally, this team has dogs in the defensive backfield. Either way, the very next practice after the acquisition, three defensive backs all had stand-out performances. Hooker and last year's starter Donovan Wilson are intriguing but it may be Damontae Kazee who has impressed more than any other early on.
Kazee had at least three interceptions in one practice alone which should not be shocking since he once led the league in that category not too long ago. His quick return and great play after tearing his Achilles is easily more of a shock.
Lastly, by the looks of things, the move of Keanu Neal from safety to linebacker has gone pretty well. Neal has been very active in coverage, routinely making completing passes to tight ends and running backs difficult.
Of course, it has not been ALL about the defense. Running back Ezekiel Elliott looks fresh and spry. Back in February, I warned about how foolish it sounded that people were so quick to start burying Zeke. Training camp has done nothing but reinforce that belief.
Second-year receiver CeeDee Lamb has been nothing short of fantastic so far. Seemingly practice after practice, he's making a great play or two, even dabbling in the absurd with one-handed catches that would compete favorably with anything Odell Beckham, Jr. has done.
Last but not least is the straw that stirs the drink here for the Dallas Cowboys. Quarterback Dak Prescott has looked good coming off last year's season-ending leg injury. He has definitely thrown more interceptions than you would like to see but by and large, his play has been good.
Another brief scare occurred Thursday when he stopped throwing mid-practice and did not return. Thankfully, it is just a minor shoulder issue that would not even keep him out of a game, if games were really happening right now. All seems to be just fine with Prescott, who also closed the week celebrating his 28th birthday with help from Elliott and right tackle La'el Collins.
With that, stay in touch here as I will continue to provide updates from camp as well as a review of the upcoming Hard Knocks episode one.