Dallas Cowboys: Power ranking five first round options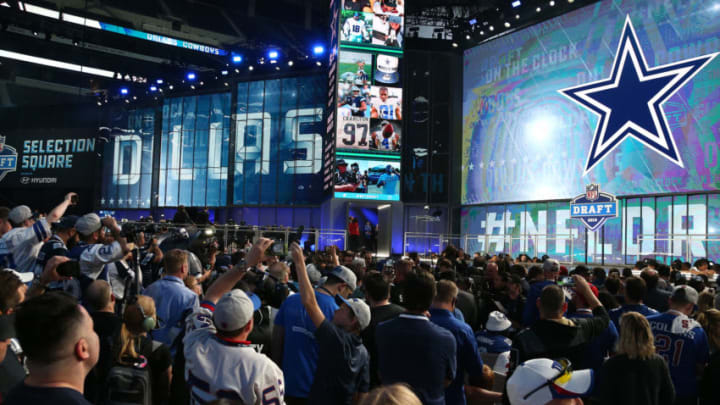 Dallas Cowboys NFL Draft (Matthew Emmons-USA TODAY Sports) /
Kyle Pitts #84 of the Florida Gators (Photo by Joel Auerbach/Getty Images) /
Next to the eve of a new season's first game is there a more optimistic time in sports than the night before the draft? This year the Dallas Cowboys are picking 10th in the NFL draft and they are in a prime position to inject some new life into a roster that is in desperate need of fresh talent, particularly on defense.
As fun as the mock draft season can be, they almost always get blown up and disproven within the first couple of picks as trades happen or players rise and fall in unforeseen ways. At this point, we've seen the same players routinely mocked to Dallas, but truly anything could happen. With that in mind here are five first-round scenarios for the Cowboys, power ranked by how likely they are to actually happen.
5. Kyle Pitts
Let's get this one out of the way from now, I love Kyle Pitts. I just think there is basically slim to no chance that he's rocking the star on his helmet come Thursday night. I would love it if he does, and adding him to this offense would be exciting, to put it mildly.
There just aren't many reasonable scenarios where he actually falls all the way to the Dallas Cowboys. Furthermore, team owner Jerry Jones also confirmed earlier this week that he didn't think the cost made sense to move up for Pitts.
The former Florida Gators tight end is a truly generational talent. He has a unique combination of size and speed, and based solely on his potential, has the ability to change the game for tight ends. He's a defensive coordinator's worst nightmare because it just feels like he is a mismatch for anyone you could possibly try to cover him with.
Heading into the 2021 season the Cowboys' tight end position lacks a truly elite player, but it's also far from a pressing need. Blake Jarwin will be coming back healthy and following Dalton Schultz's far better than an expected 2020, there is optimism that they will be just fine at tight end.
That said the best draft strategy is always to draft the best player available. If the board gets wild and Pitts does start to fall, it feels much more likely a team will leapfrog Dallas to take him. But, if he does make it to the 10th overall pick though, he'd instantly be the best player available on the draft board and the Cowboys need to take him.