4 reasons why the Cowboys can't mess this draft up, right?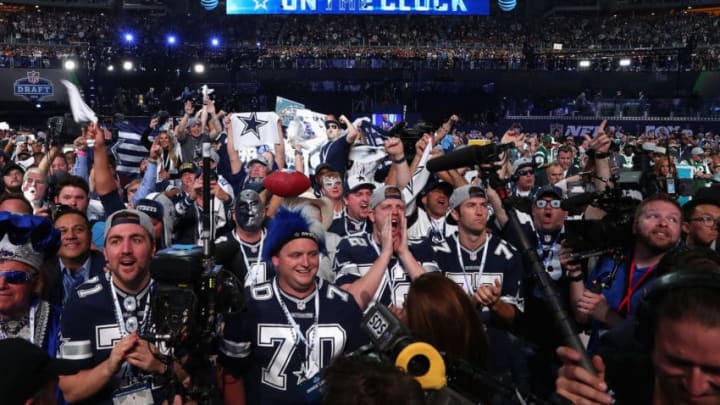 Dallas Cowboys fans at the 2018 NFL Draft (Photo by Tom Pennington/Getty Images) /
CeeDee Lamb #88 of the Dallas Cowboys celebrates with teammate Michael Gallup #13 (Photo by Hannah Foslien/Getty Images) /
Dallas Cowboys don't really need skill positions
Listen, it's one thing to need a quarterback, a running back, or any other shiny new toy to put on your offense, but it's another to have to build up everywhere else. Picking skilled positions isn't an envious position to be in.
For example and though Kyle Pitts has the tools to be a flat-out superstar and stud at the next level, being tasked with being the guy that hands that card in for your organization is one of the most frightening places to be though. You'll have to take Pitts in the top five, one would imagine but you also have to consider this, he's a tight end.
Sometimes, it takes a while for those guys to pop, while if the offense isn't right, they won't even be able to highlight him. It's so many things that go into taking any offensive player, especially a tight end and especially when he's truly earned the right to go as high as he has.
Reason #4 – Needs Aren't 'Glamorous'
With that though, that's the last reason why the Cowboys shouldn't have any issue getting this draft right. They don't really need to be looking at those positions.
The Dallas Cowboys might take someone at the skill positions, but they don't really need to. To be honest, they need to figure out what they are going to do about Michael Gallup.
While you would love to have him, they won't be able to pay everyone what they think they are worth. With CeeDee Lamb in tow, do they look to move one of their current guys or do they try to keep all three?
That's something to discuss later, but worth a discussion. They don't need a tight end, as with the return of Blake Jarwin, they now have two really really good options there, if not more.
That's also something to shelf for later. Lastly, you have to ask yourself is the Ezekiel Elliott Era starting to wind down in Dallas but by "wind", it doesn't mean this season, plus with Rico Dowdle and Tony Pollard in tow, they have a few of those already as well.
Needless to say, they don't have real needs at the skill positions. They have holes at the grunt positions, not the Diva ones.
That's the last reason why it shouldn't be that hard for Dallas this time around. Again, the Dallas Cowboys are the living, breathing, walking, and talking embodiment of Murphy's Law.
If it can go wrong, it will go wrong. However, for the sake of all that support the Cowboys, they have to get this one right. These have been the reasons why they should … this time.