Dallas Cowboys must be better at drafting defense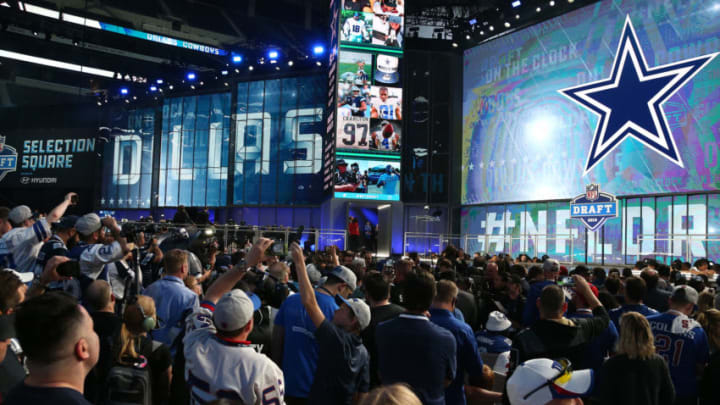 Dallas Cowboys NFL Draft (Matthew Emmons-USA TODAY Sports) /
The Dallas Cowboys have three and a half weeks to decide what they will do with the tenth overall pick in the 2021 NFL Draft. Beyond that first-round pick, Dallas has three other selections in the top 100 at the time of this draft.
Taking the temperature of the fan base via social media, the prevailing desire seems to be to continue to add weapons of mass destruction to the offense. Cowboys Nation is salivating at the thought of choosing Florida tight end Kyle Pitts. Many a fan is stocking up on chickens, rum, and cigars to bring to the altar of Jobu in order to make that a reality.
While the idea is absolutely intriguing, the prudent thing to do with the majority of these high draft choices would be to address the other side of the ball. Even when the Dallas Cowboys were somewhat healthy last year, the defense was a complete disaster. Clearly, if this team is ever to return to glory, the offense cannot do all the heavy lifting.
Unfortunately, for the Dallas Cowboys, drafting defensive help has not worked out as planned in recent years. It certainly has not been for a lack of trying, nor have the selections been afterthoughts.
Since 2012, this team has used 15 draft picks on defensive players within their first 100 selections. The results have left a lot to be desired:
2012 Round 1, Pick 6: Morris Claiborne, CB – LSU
2012 Round 3, Pick 81: Tyrone Crawford, DL – Boise State
2013 Round 3, Pick 80: J.J. Wilcox, DB – Georgia Southern
2014 Round 2, Pick 34: DeMarcus Lawrence, DE – Boise State
2015 Round 1, Pick 27: Byron Jones, CB – Connecticut
2015 Round 2, Pick 60: Randy Gregory, DE – Nebraska
2016 Round 2, Pick 34: Jaylon Smith, LB – Notre Dame
2016 Round 3, Pick 67: Maliek Collins, DT – Nebraska
2017 Round 1, Pick 28: Taco Charlton, DE – Michigan
2017 Round 2, Pick 60: Chidobe Awuzie, CB – Colorado
2017 Round 3, Pick 92: Jourdan Lewis, CB – Michigan
2018 Round 1, Pick 19: Leighton Vander Esch, LB – Boise State
2019 Round 2, Pick 58: Trysten Hill, DT – Central Florida
2020 Round 2, Pick 51: Trevon Diggs, CB – Alabama
2020 Round 3, Pick 82: Neville Gallimore, DT – Oklahoma
As you can see, the Dallas Cowboys have tried everything. All three lines of defense have been addressed. Big names. Big schools. It just has not panned out.
Seven of these fifteen guys are no longer on the team. Only one guy has earned multiple Pro Bowl selections. In total, just four players have had such an honor and no one has been named an All-Pro.
When you factor in the blueprint of the Dallas Cowboys, missing on draft picks hurts even more. This team does not spend money in free agency unless it is to re-sign their own players. Free agency is used to acquire decent veterans to provide depth or to bring in low-risk, high-reward flyers like they did this season with Keanu Neal and Damontae Kazee.
This year, two big-time prospects at cornerback and a top-tier linebacker should all be available when Dallas is on the clock. Patrick Surtain, II, Jaycee Horn, and Micah Parsons would all be welcome additions to the Cowboys defense.
Will this team go in a different direction given past results? Given that they have tried, over and over again, to find talent on defense, I think they will do so again in 2021. Hopefully, the results will be much better if they stay the course.